I've always enjoyed the simple pleasure of a walk. It's a little escape from a day's difficulties and stresses that offers the opportunity for contemplation or conversation and camaraderie. Before our family had dogs, my walks were occasional and sporadic, but when first one and then a second puppy came gamboling into our lives, walks became everyday necessities–both for them and for me. Those walks gave me a precious half-hour alone, when no one was asking me for anything, and no one was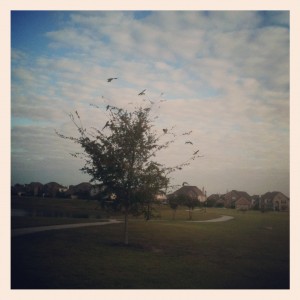 clamoring for attention. And even now, with my boys ten and twelve, I still welcome the space.
Those walks afford me an opportunity to think clearly and quietly, to brainstorm the latest pickle in my current work in progress, to plan the week ahead, or decide how to tackle a new project, and I look forward to them with anticipation, even in the steamy heat of the summer. Some days my thoughts aren't focused, and I simply take the time to enjoy my surroundings: to notice the clouds, feel the breeze, admire trees and flowers, or simply listen to the birdsong. There are some feral Monk parakeets that nest locally, and lately, I have been stalking them, hoping to catch a fleeting glimpse of the raucous group on every morning's walk. Each sighting feels strangely triumphant. (The picture to the left is my attempt to capture them.)
With every day inundated with technology in all its various incarnations, it is not often that I feel I can relate my life to Jane Austen's or her characters', but lately (during my walks), I've been thinking of Lizzie Bennet. While I'm dealing with two rowdy boys and their sports and video games, she was dealing with a shrewish mother, one prosy sister, and two flighty, irresponsible ones. And what was there to do indoors but visit, read, or engage in some ladylike pursuit or another? I am not surprised she escaped outdoors as much as she did! And if the scenery from the 1995 BBC adaptation of Pride and Prejudice gave any indication of the landscape of her walks, she had nothing to complain of and everything to admire. Those broad, leafy shade trees, and the lush green meadows… Hills and dales and the gardens and hedgerows…
She had much to ponder: her hopefulness for Jane and Bingley, her growing crush o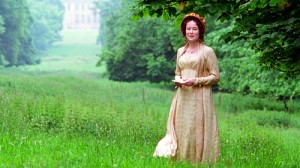 n Wickham and her distinct dislike of Darcy–and then, all at once, just the opposite–compounded by her worry over Lydia's brazen impulsiveness and the harm it would do her family. And then, just simply Darcy. It must have been much easier to sort through it all in her mind while out in the peaceful outdoors. Longbourn must, at times, have indeed been a place to escape. I expect Charlotte Collins must have done a good bit of walking herself…
And eventually she would be at Pemberley, among the gardens and the parklands, and each walk would be a lush and lovely treat. Perhaps there were even feral peacocks! I would love to go to England on a walking tour. Perhaps my husband would consent to come walking out of a pond. Or perhaps not. Either way, I'm certain it would be as lovely and memorable as the film.
Fall is coming, ever so gradually, to the Texas Gulf Coast, and that is making my walks even more pleasant. The crisp, dry air, the gusty breezes, the feeling of anticipation: the holidays are coming! Halloween, Thanksgiving, and then the busy month of December. My walks will be spent thinking of apples, gingerbread, and pumpkin pie, pondering the menu for Thanksgiving, and brainstorming potential Christmas gifts and cookie recipes…not to mention working out the kinks in my work-in-progress. There is much to look forward to! I think I know precisely how much pleasure Elizabeth Bennet took in her long walks. I take the very same in mine.
Image via
Alyssa Goodnight
Alyssa Goodnight currently lives between Houston and Galveston with her husband, two sons, and their adventure dogs, Indiana Jones and Short Round. She does her writing with an ice-cold can of Dr Pepper and her reading with cake whenever possible (now gluten-free!) Her writing has been described as clever, quirky, captivating and delightful. She is the author of Austentatious, Austensibly Ordinary, and Unladylike Pursuits.