The Bennet Brother: P&P Readers Choice #1
Published
January 30, 2013
|
By
Abigail Reynolds
Welcome to first installment of The Bennet Brother, the new interactive group writing project from Austen Authors!   Two weeks ago readers voted on a starting scenario for this Pride & Prejudice variation, choosing The Bennet Brother over two other options.  At the end of this segment, you'll have a chance to vote on what happens next.  Given that the next installment will be written by Jack Caldwell, I'd choose your option with care!
Full details of the P&P Readers Choice event can be found here, and you can read some of my thoughts about the background of this particular story here.  There are also extra details on Twitter where this story has taken on a life of its own.  Mr. Edward Bennet (@edwbennet) already has a notable presence and regularly interacts with readers.
The Bennet Brother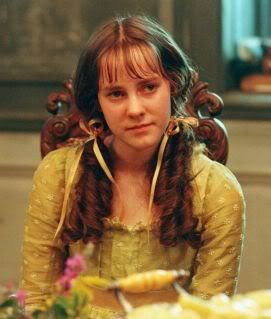 Lydia angrily threw down the sprigged muslin dress. "This frock is three seasons old, and everyone knows it was Kitty's first! Look, you can see where the hem was let out. How can I go to the assembly dressed like a pauper?"
Jane picked up the dress and dusted it off, then folded it neatly. "Perhaps we can sew some trim over the old hemline. I have some new blue ribbon would match the flowers on it perfectly, and it would make it look quite different."
Mrs. Bennet bustled up and took the dress from her eldest daughter. "Nonsense, Jane. That ribbon is for your hair. You must look your most beautiful when you meet Mr. Bingley!"
Lydia stamped her foot. "Why can't I be the one to look beautiful for Mr. Bingley? I would look as pretty as Jane in a new dress and new ribbons!"
"Do not fret, my pet. You will have your chance, but Jane has the best chance of fixing Mr. Bingley's interest now. Just imagine, when you are one-and-twenty, Edward may be able to take you to a ball in London in a new gown! But Jane cannot wait so long. She will be too old by then."
"Edward, Edward, Edward! I am sick of Edward! Edward gets to live in London. Edward gets fashionable new coats from London tailors. Edward gets a manservant to starch his cravats. And we get nothing! It isn't fair!" Throwing herself into a chair, Lydia crossed her arms and pouted.
Jane said comfortingly, "You know it is an investment. Edward needs to look the part of a gentleman if he is to catch the interest of an heiress."
"It does not seem to have helped him so far! And how am I to catch a husband when I look like a poor relation?"
Exasperated, Lizzy said, "You are fifteen years old! You should not even be out, much less trying to catch a husband. If Edward were here, he would stop you from attending the assembly at all, dressed like a pauper or not!"
"Then I hope he never comes home!" Lydia stalked out of the room.
Mrs. Bennet looked after her. "That girl has no pity on my nerves! Of course she wishes for a new dress, and I would be very happy to have one myself. When I was a girl, I dearly loved a new dress." She smoothed the skirts of her well-worn day dress, then followed her youngest daughter, leaving her two eldest daughters alone.
BE SURE TO VOTE – Click on Continue Reading…
Elizabeth sighed. "Personally, if I were Edward, I would stay in London as long as possible."
"But I do so long to see him," said Jane wistfully. "It has been months since he was here."
Elizabeth took a deep breath. "When he does come, I plan to speak to him about the estate."
"About the estate? What about it?"
"Has it never occurred to you, Jane, that Lucas Lodge has fewer tenants and less land than Longbourn, yet somehow the income from it is sufficient to send three sons to school and still have plenty of money for pretty clothes and parties? Think of the Fieldings, the Longs, and all our other neighbors. They manage to live well within their income. Why is it that we can barely afford to support Edward in London and must pinch our pennies here?"
Jane frowned. "Do you suppose Edward is spending money too freely?"
"Edward? Hardly. He is more worried about our future than any of us. I think…" She trailed off, then said in a stronger voice. "I think our father may not be managing Longbourn properly."
"Oh, Lizzy, you must not say so! I am sure he does his best."
"Perhaps his best is not very good, then. I love him dearly, but he does not like to trouble himself over business. There could be major problems that he is unaware of simply because he does not bother to look for them."
"I cannot imagine that any of our tenants would try to cheat us," said Jane.
"Of course you cannot imagine it, dearest; you cannot imagine ill of anyone! But it might be no more than poor management – planting the wrong crops, or not keeping enough animals, or something like that. I plan to speak to Edward about it when he returns home. Perhaps he will know what to do."
***
Edward Bennet whistled as he strode down Marlborough Street to his shared bachelor quarters.  He ought to be disappointed that Miss Weatherby's family had left London earlier than planned, but he simply could not muster the appropriate distress.  With another month, he might have been able to convince Miss Weatherby and her twenty thousand pounds to accept his hand, and then he would not need to return to London next season. Still, with her departure, he was free from any obligation to remain in Town.  Now he could go home to Longbourn a month earlier than he had planned, and given all his plans for the estate, that extra month would be a godsend.
Reaching his rooms, he called out to Jessop, the valet he shared with two other gentlemen in straightened circumstances.  He would need Jessop's assistance to peel off his fashionably skin-tight topcoat.  Once he was back at Longbourn, he would no longer need to dress to impress heiresses, and he could relax and wear his ordinary clothes. It would be heaven!
He would be glad to see his sisters again.  The better part of a year had passed since he had visited his family last Christmas.  Letters were simply not the same.  Lizzy had sounded worried about the younger girls in her last letter, though Jane had not mentioned any difficulties.  Then again, Jane never mentioned difficulties, so perhaps that was not the best indicator.  She had written only of new neighbors and an upcoming assembly.  When had she said it was to be?
He rifled through the papers on his desk until he spotted Jane's neat script.  A quick scan told him the assembly would be the very next night.  A smile curved his lips.  Would it not be a delightful surprise if he appeared at the assembly when he was least expected?  If he was fortunate, the lovely and flirtatious Miss Perry might be there as well.  Of course, she might be married now for all he knew.  But just in case, he would wear his best blue coat and the waistcoat shot with silver.  Yes, that would be the very thing.
***
The assembly was every bit as tedious as Darcy had anticipated. Why had he allowed Bingley to persuade him to attend? Now he was trapped among this collection of people with little fashion or beauty. Bingley's sisters in their London finery stood out like peacocks in a flock of hens. Despite making a point of not wearing his finest clothes, Darcy knew that the tailoring of his coat did the same for him, and if there was one thing he could not abide, it was standing out in a crowd. If he heard one more whisper about his ten thousand pounds a year, he would not be answerable for the consequences.
He danced first with Mrs. Hurst, less out of pleasure in her company than because he did not wish to raise Miss Bingley's expectations by asking her for the first set of dances. It would only exacerbate her futile efforts to ensnare him. Her cutting wit was often amusing, and she would likely be the only one with whom he could share his sentiments about this event, but even that grew tiresome quickly. Still, she was better than any of these cow-eyed country girls who fluttered their eyelashes every time he walked past, seeing only his fortune and wanting it for their own, just as Wickham had lusted after Georgiana's dowry. He despised them all and did not care who knew it.
His interest was briefly caught by the entry of a young gentleman whose well-tailored coat was fashionably tight over an embroidered silk waistcoat, his hair cropped in the latest London style. At least now there was one man outside his own party whom he would not be embarrassed to stand beside! But even as he thought it, a flock of women descended on the new arrival, some embracing him and all chattering away as if some sort of miracle had occurred. Rather than pushing them away, the gentleman seemed pleased with attention. Darcy looked away in disgust.
When the music resumed, he saw Bingley dancing with the pretty Miss Bennet again, already looking half besotted. Miss Bingley, her nose in the air, moved down the line with that fool Sir William Lucas, her well-trained grace contrasting with his shambling movements. The new arrival took the floor with the dark-haired young woman whom Sir William had introduced to Darcy earlier, no doubt in an effort to force him to ask her to dance – Miss Perry, that was her name, and she was looking up seductively through her lashes at her laughing partner, who seemed quite willing to join in her little game. If he was a rake, he would find easy pickings among all the foolish women who seemed so delighted to see him.
During the break in the set, the two stopped just a few feet from Darcy, and he strained to hear their conversation. If the man was indeed a rake, he could make a point of avoiding an introduction to him, but he heard nothing beyond a quiet reference to fresh air when Bingley appeared beside him.
"Come, Darcy," said Bingley. "I must have you dance. I hate to see you standing about by yourself in this stupid manner. You had much better dance."
Darcy frowned at him. Standing about in a stupid manner, was he? He would not tolerate that kind of comment even from his friend. "I certainly shall not. You know how I detest it, unless I am particularly acquainted with my partner. At such an assembly as this, it would be insupportable. Your sisters are engaged, and there is not another woman in the room whom it would not be a punishment to me to stand up with."
"I would not be so fastidious as you are," cried Bingley, "for a kingdom! Upon my honour I never met with so many pleasant girls in my life, as I have this evening; and there are several of them, you see, uncommonly pretty."
"You are dancing with the only handsome girl in the room," Darcy said, tilting his head toward the eldest Miss Bennet.
The conversation seemed to have caught the interest of the newly-arrived gentleman, who turned slightly toward them to reveal finely cut features in a face somewhat younger than Darcy had originally thought.
Bingley smiled affably. "Oh! she is the most beautiful creature I ever beheld! But there is one of her sisters sitting down just behind you, who is very pretty, and I dare say very agreeable. Do let me ask my partner to introduce you."
"Which do you mean?" Darcy turned around and found his gaze caught by a pair of dark eyes that looked at him with an assessing interest. Another fortune-hunter, no doubt. Well, he would put a stop to her pretensions. Deliberately dropping eye contact and turning to Bingley, he said coldly, "She is tolerable; but not handsome enough to tempt me; and I am in no humour at present to give consequence to young ladies who are slighted by other men. You had better return to your partner and enjoy her smiles, for you are wasting your time with me."
The young gentleman, an odd look on his face, turned fully and stepped closer to Darcy. "Pardon me, sir," he said haughtily. "I could not help overhearing your comment. Are you perchance referring to my sister?"
Devil take it! Her brother? Darcy had thought there were only daughters at home, or he would not have dared to say such a thing. He should have known better. Once again he had been caught saying something offensive – and he was in the wrong. It was even worse than usual, since in general when someone took offense, he could just deliver a set-down and walk away, but Bingley would not thank him for insulting one of his new neighbors. Quietly furious, he nonetheless kept his voice level. "My words were a reflection of my own ill humor, and were not intended to apply to any lady in particular." The man's expression did not change, and Darcy knew what that meant. He said with resignation, "If I might impose on Miss Perry to introduce me to your sister, I would be honored to dance with her." It would be a half hour of purgatory and no doubt lead to embarrassing speculation about his intentions, but there was nothing to be done for it. He would pay the price and then leave, whether Bingley was ready or not.
Miss Perry's smile held a hint of triumph. "Mr. Darcy, may I have the pleasure of introducing to your acquaintance Miss Elizabeth Bennet and Mr. Edward Bennet?" Her eyes mocked him. Who did she think she was, laughing at the Master of Pemberley?
The Bennet chit rose to her feet and curtsied, her icy expression removing what little beauty her face might have possessed. This was going to be a very long set of dances indeed.
He bowed to her, then forced out the necessary words. "Miss Elizabeth, would you do me the honor of standing up with me for the next set?"
~~~ to be continued ~~~
*Colette Saucier made me to use the picture of Matthew Crawley, even though his eyes are the wrong color.
What happens next is up to you! Here are your choices:
1. Although angry, Elizabeth nonetheless agrees to dance with Darcy to avoid a confrontation between the two men.
2. Although angry, Elizabeth politely declines to dance, even though it means she can't dance with anyone else for the rest of the evening.
3. Elizabeth refuses archly, saying, "Mr. Darcy is all graciousness, but I am not in a humor to dance with gentlemen whose countenances may be handsome, but whose manners are not tolerable enough to tempt me."
The next installment by Jack Caldwell will be posted on February 13. In the meantime, please join in the conversation by following @edwbennet on Twitter or by using the hashtags #hotBennetBrother or #hBB.  Other characters will be tweeting as well.  Your comments and tweets may influence the course of the story – just ask the seductive Miss Perry!
69 Responses to The Bennet Brother: P&P Readers Choice #1
*Giveaways
Enter our monthly contest using the Rafflecopter form on the
Giveaway Page.
All rules and prizes are listed there! Click the image or link provided.
Purchasing
Austen Authors Amazon Marketplace
Amazon.com