Published
February 26, 2013
|
By
Shannon Winslow
Whoohoo! Debut day has finally arrived!
Ever since I finished writing Return to Longbourn, I've been dying to get this story out there. The creative process isn't complete until the resulting work is shared. And the wait to share a new book can be excruciating  - like having a tantelizing secret to tell and no one to tell it to!
One reason I'm so anxious to share this book is that I want to know if it intrigues and surprises you as much as it did me when I wrote it. You see, although some authors plot their entire story in detail before actually beginning to write, I do not. I fly by the seat of my pants – dangerous at times, but also a lot of fun! This time the trip took me somewhere unexpected.
I set out to continue the Pride and Prejudice saga, following up on The Darcys of Pemberley by jumping about five years ahead in time. I wanted to finally answer the question first raised by Jane Austen herself 2oo years ago. What will happen to the the Bennet women when Mr. Bennet dies, seeing that the Longbourn estate is entailed away from the female line?
That's the basic problem posed at the outset of Pride and Prejudice, and it's only partially resolved by the end of the book. In The Darcys of Pemberley, I uncerimoniously knock off Mr. Collins (sorry, folks), but that changes nothing; the girls still cannot inherit. So when Mr. Bennet does (sadly) die, what happens to Mrs. Bennet, her two unmarried daughters, and the Longbourn estate? Continue reading →
Published
February 25, 2013
|
By
Abigail Reynolds
Working on The Bennet Brother, our Reader's Choice story, has me thinking about the choices we make in plot twists.  I've already read the chapter you'll be getting this week (it's brilliant), and I'm not giving anything away by saying that Diana Birchall sends the plot in a direction I wouldn't have thought of.  Not that it's so terribly radical, just different, and it made me think about how I sometimes end up limiting plot choices without realizing I'm doing it.  
Writers tend to divide themselves into plotters and pantsters.  The plotters outline their plot scene by scene before ever sitting down to write, while the pantsters have a general idea of where they're going, but fly by the seat of their pants on how to get there.  I'm a hybrid.  I start each book with a plot outline, and then pitch it out the window halfway through when the characters start demanding to do something different.  I've learned over the years that it's important to listen to the characters because they know the story better than I do.  But that leads to plot dilemmas.
I first came to grips with this problem in 2002 when I was writing Impulse & Initiative, which was later retitled To Conquer Mr. Darcy.  I was posting it online chapter by chapter as I wrote it, and the characters of Darcy and Elizabeth developed into an explosive combination, enough so that when I reached one particular kissing scene, I realized the characters as written wouldn't stop at kisses as the plot outline demanded.  I'd never written an intimate scene before and had a lot of trepidation about the idea.  Okay, you can stop laughing now!  It really did scare me to death.  In fact, my first draft of a love-making scene was one paragraph with four sentences.  Oops. Continue reading →
Published
February 22, 2013
|
By
Maria Grace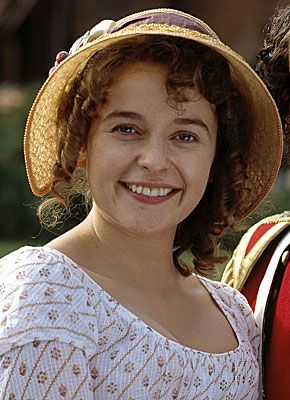 Flirtation is a diverting, and necessary sport for any young lady in want of a husband. So it seems quite odd that a mother who engages in much match-making and elder sisters in need of husbands would conspire together to interfere with so much with it. Even so, a great deal of flirtation can be undertaken in the presence of one's chaperone with them being left none the wiser for it. A young lady need only be clever and in the company of like-minded companions to engage in a great deal of harmless fun with many young men all at one.
There is of course dancing as an obvious answer to this need, however, parlor games may be used to much the same effect. These are quite useful when there are no smart musicians about or they, as if oft the case with my sister, are unwilling to perform appropriate music for a dance.
Keep in mind, however, the proper choice of evening pastimes is critical.  Certain games lend themselves to flirtations and conversations which might never be so easily accomplished in any other way. A girl must be well versed in these pastimes and insure her friends are likewise that they may assist one another in directing the games in the most profitable way possible.
Games which are particularly amenable for this purpose I divide into two sorts, those which allow for covert communications and those which allow interactions of a more physical nature. I myself am more fond of the later for the former demands an eloquency with words that I can be little bothered with. However, I have known girls who put them to use with great efficacy and it would not do to leave any means of flirtation untried. Continue reading →
Published
February 21, 2013
|
By
Shannon Winslow
Return to Longbourn, my third Austenesque novel will debut here at Austen Authors next week, on the 26th!  It's the follow-up to my Pride and Prejudice sequel, The Darcys of Pemberley, and centers on Mary, Kitty, and the new heir to the Longbourn estate. (See related post, Redeeming Mary Bennet). I can hardly wait to share this story with you; that's the best part of being an author!
Leading up to the publication of a new book, though, the two most exciting moments for me are 1) my first sight of the completed cover design,  and then 2) when I get my hands on the first copy of the paperback. If our books are our darling offspring, I suppose this correlates to the preview ultrasound picture and then finally holding your newborn in your arms.
Even though this is my third book, seeing the cover above (designed to wrap around, front and back) still sent a jolt of excitement right through me! And it left me eagerly awaiting the arrival of the actual book. My fiction-trained brain naturally rendered the much-anticipated event in high drama and living color. In my head, it went something like this (please excuse the little excesses of my fevered imagination, and put them down to artistic license):
 Best-selling author Shannon Winslow has once again closeted herself away from the world. She's in her studio, hunched over her computer keyboard, focusing all her considerable mental energies on her current writing project.  The muse is with her today; the words flow effortlessly through her fingers and onto the screen before her. Continue reading →
Published
February 20, 2013
|
By
Vera Nazarian
February, the month of love and romance is not over, and Love still lingers in the air like a hint of delightful exotic perfume…
Ripe peaches and heady acacia, sweet honeysuckle, lily-of-the-valley, and the heavenly rose…
Yes, Love with a capital "L" — because this is how the great philosophical abstractions were written in the 18th century and earlier, giving moral, intellectual, and emotional emphasis to Love, Hope, Faith, the Charities, Fortitude, Pride, Ambition, and a myriad other concepts that in our modern era we hardly ever capitalize unless we want to wax nostalgic, or poke somewhat wicked, cynical fun at them (because, you know, we are just way too cool to be earnest).
In Cobweb Bride, my new major semi-historical epic fantasy novel coming in July 2013, I explore Love and all its complex permutations, with abandon.
In the absence of Death,
In the presence of Death,
Only one thing remains,
It is Love.
This is the preamble to the novel, and it gives a hint of what's to come….
But, besides having an old-fashioned flavor of history, with a rich epic cast of characters (can you say, George R. R. Martin's Game of Thrones?), what exactly does it have to do with Jane Austen, you say?
Without giving away the several intertwined stories of the many lovers in Cobweb Bride, I can tell you this—it explores Love in all its plurality of ways.
In a world where death has ceased to be, a world suspended—what is there, but Love? It is a thing simultaneously altogether impossible, common-sense practical, satirical, earnest, gothic-romantic, and profound…
Oh and yes, just like Austen, Cobweb Bride has several interesting, romantic, and very intense men! (Wait till you read about Lord Beltain Chidair, the mysterious black knight who roams the forests near Death's Keep, by order of his undead father, and hunts young maidens who attempt to pass!)
And talking about Love and the men of Austen, we come to the heart (pardon the pun) of the matter. I am going to talk about four distinct categories of Austen men here. So, let's get to it. Continue reading →
Published
February 19, 2013
|
By
Marilyn Brant
First and foremost, I want to say thanks to YOU for making my first White Soup Press book, Pride, Prejudice and the Perfect Match, an Amazon top 100 bestselling title in both Single Women's Fiction and in Humor! I've heard from readers who've told me they picked it up just for the contemporary romance, but I know it's truly my fellow Austen fans from around the world that have made it my fastest-selling ebook thus far. I can't express to you all how much that's meant to me…thank you.
For those of you who have read it or are reading it now, it was also chosen as the Nook Feature for February at the Barnes & Noble General Fiction Book Club! The direct link to discussion is here, and it's open to everyone all month long. We're not talking just about the book, by the way. We've chatted about other favorite classic novels and, of course, all of those great Austen films…
In my novel, the matchmaking method that's used to connect my main characters — Beth Ann Bennet and Dr. William Darcy – is the fictional "Lady Catherine's Love Match Website." Well, I'd like to have some fun today and give us ALL the chance to play matchmakers by uniting some other potential lovers! Which romantic pairings do you think would be especially delightful, if we were to mix-n-match heroes and heroines from across the Austen novels? Any character (primary or secondary) from any of Jane's original books is fair game — although I've listed 60 ladies and gents in the character database below to get us started. Just imagine their names are being entered into an online matchmaking website under "AustenMatch.com," LOL. I wonder what the "love match" results will be… Continue reading →
Published
February 18, 2013
|
By
Sally Smith O'Rourke
A few weeks ago (January 27 to be precise) a friend sent me a link to an article her husband was sure I would find interesting.
Janeites: The curious American cult of Jane Austen
A bit of trivia ~ I here apologize to the memory of literary scholar George Saintsbury who coined the term Janeite in an introduction to the 1894 publication of Pride and Prejudice. I thank the Jane Austen Fans of Ireland for setting me straight as I had credited Rudyard Kipling.
The article was trying to posit an explanation of why Americans like to dress in Regency era clothing, have tea parties and balls and devour sequels not written by Jane Austen.
Laurel Ann Nattress of Austenprose suggested to the author of the article that the elegance of the time is a part of the draw as is looking to the motherland, siting the intense interest in Downton Abbey as an example. Further explaining that Jane wrote only six books and it simply wasn't enough, people don't want to give up the characters.
But the overriding conclusion of the article seemed to be that the romance of the stories is what draws people to them even though we know that romance was not Austen's intent. In fact, Jane created what we see as romance now; successful men who love strong, independent women. She was way ahead of her time. And while I agree with most of the assessment I think the article missed the most important thing that draws people to her and has for two hundred years. At least it is what drew me to her and is the reason my mother gave me Pride and Prejudice when I was fifteen which was my introduction to Jane.
In an era when novels were dark and foreboding she wrote bright, lively tales that often included scandal but scandals that were always resolved without death or destruction. Even Maria Bertram Rushworth in Mansfield Park, who is not allowed the society of her family, is still taken care of in comfort along with her Aunt Norris. As Austen says in reference to this 'punishment', "the penalty is less equal than could be wished. Continue reading →
Published
February 18, 2013
|
By
Regina Jeffers
Regina Jeffers is happy to announce the winners of her February Regency romance release of His: Two Regency Novellas. An autographed print copy goes to Vee, while an e-Book version will be presented to SuzeJA.  Please contact Regina at regina@rjeffers.com to claim your prizes. A special thanks goes out to all those who commented. 
Published
February 15, 2013
|
By
C. Allyn Pierson
In the past two weeks I have had several people ask me about what Regency ladies wear under their gowns (no, do not ask me about what Scotsmen wear under their kilts, my Scottish ancestors would come back to haunt me if I told…). In spite of the very thin materials, such as muslin and silk, used to make Regency gowns, the modest Regency lady wore quite a lot of layers under her gown.  The Regency silhouette allowed the shape of the body to show when the wearer moved instead of hiding it under stiff outer garments as was the fashion both before and after the Regency.
The first layer is the shift (also called a chemise, French for shirt, or smock), a garment made of thin, woven linen (or, later, cotton) with a large neckline drawn in with a drawstring and was worn to help keep the outer layers of clothes away from body oils and sweat.  The shift is a large rectangle with short sleeves set straight out from the body and gussets under the arms to allow movement.  The reason for this unshaped garment is to allow the wearer to adjust the neckline with the drawstring so that the neckline is just low enough to not show above the bodice of the dress. When the neckline changes in this way, set in sleeves, as are used in the outer garment, would not fit properly with all the layers on. In some cases the shift could be gathered up to show above the neckline of the gown, providing more coverage.
Over the shift goes the stays or corset. Most young ladies in the Regency, unlike their mothers in earlier eras, wore short stays. The corset was still worn by those who needed its assistance to keep their figures looking trim, as well as by many older women who had worn a corset since late childhood and now needed the support for their weak backs caused by never using the muscles of their trunk to hold themselves up and their stomachs in. Continue reading →
*Giveaways
Enter our monthly contest using the Rafflecopter form on the
Giveaway Page.
All rules and prizes are listed there! Click the image or link provided.
Purchasing
Austen Authors Amazon Marketplace
Amazon.com