Published
March 30, 2013
|
By
Sharon Lathan
Published
March 29, 2013
|
By
Alyssa Goodnight
If you are a Jane Austen purest, then The Lizzie Bennet Diaries may not be for you.  By no means a purest myself, I'm not exactly sure what took me so long to check it out.  I finally watched the first episode in March of this year, almost a year after it was produced.  And yesterday,The End came, with the series' 100th episode. (But I haven't seen it yet, so no spoilers please!)
A bit of background on this latest Austen adaptation:
1.  The Lizzie Bennet Diaries is a serial video blog (www.lizziebennet.com), loosely based on Jane Austen's Pride and Prejudice.  Each episode runs between 3-5 minutes. Amazingly, Episode 1 has chalked up over a million views.
2.  It has a strong social media component, with character Twitter accounts (like @EdwBennet!), Tumblrs, and live fan chats.
@TheLizzieBennet has 44K followers, and @wmdarcy has 31K followers.
3.  The Lizzie Bennet Diaries recently launched a Kickstarter campaign to fund the creation of a DVD boxset  of the series and a new miniseries, "Welcome to Sandition" to launch in Summer 2013.   The $60,000 goal was raised in 3 hours!  With 25 days still to go, $318K has been pledged.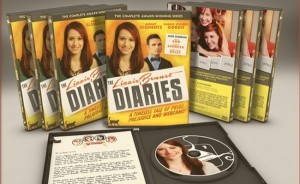 4.  Beyond the main storyline (distinguished by the "Episode" distinction), there are other side stories that can be explored via YouTube, Tumblr, and/or Twitter.
I personally think it is a wonderfully creative, modernized version of a beloved classic.  Not to mention a testament to the power of social media.
In The Lizzie Bennet Diaries, the Bennets  only have three daughters: Jane (the fashionista), brainy, snarky Lizzie (the grad student studying Mass Communications), and Lydia (the skank).  Eventually, Lydia gets a kitty cat and calls her Kitty.  The cat has her own Twitter account: @TheKittyBennet (and 15K followers).  There's been no mention of Mary (at least so far).  Charlotte Lu is Lizzie's best friend and is the woman behind-the-scenes of the video blog.  These four characters are the only ones I've seen thus far, and I'm on Episode 22.  Other characters pop up occasionally in the form of costumes and props.  For instance, Mrs. Bennet is portrayed by Lizzie, wearing a Kentucky Derby style ensemble (hat, shawl, and jewelry) and speaking with a Southern belle accent. Continue reading →
Published
March 28, 2013
|
By
Diana Birchall
Much to Elizabeth's annoyance, the first two weeks of their London visit was entirely taken up with assembling the proper gowns and all the appointments and furbelows for the grand presentation at St. James' Palace. Kitty was wildly excited, and squealed and screamed every time another package was brought into the house, which, what with beaded slippers, satin sashes, diamante head-dresses, lappets to secure ostrich-feathers, hoops, turbans, and draperies, was not unseldom.
Georgiana bore it all with more equanimity, submitting to the dictates of her aunt, Lady Catherine, about every portion of her dress; and Anne de Bourgh was even less affected, rarely varying her silent demeanor and sullen air.  Lady Catherine, for her part, was almost as voluble as Kitty, and despite her disdain for Elizabeth's young sister, there were moments when the pair seemed to be almost in agreement, as they were the only two who really took an excited interest in the event.
Lady Catherine's purpose became obvious to Elizabeth, as the planning of the ensembles went forward. Her Ladyship was in her element because she would be the center of all eyes, in a position of importance at the court, as the person presenting three such young ladies as the sister, sister-in-law, and cousin of Mr. Darcy of Pemberley; and alas, Mrs. Darcy too.
For there was no help for it. They were told on all sides that it was entirely necessary and proper that Elizabeth must be presented to the Queen and to Society on her marriage, as a young married woman of her position, should be. She saw no necessity for it, Mr. Darcy did not care about it, but Lady Catherine, having been convinced by custom, was imperious in her certainty, and after conference with her husband, Elizabeth felt it was best to submit quietly on such an unimportant matter, rather than risk a ruction with Lady Catherine.
It also occurred to her that her presence on the evening might help to smooth any distressed or agitated feelings Georgiana or Kitty might have, though she could not presume to be of any use to Miss de Bourgh. So she submitted to standing for long periods being fitted, thankful that the early part of her expectancy was over, and she felt equal to the demands of society and fashion.
As a young matron, she would wear a hooped gown (old-fashioned hoops were a Court requirement that the elderly Queen Charlotte insisted upon) of sapphire satin with silver tassels, and a turbanned headdress with the Darcy sapphires. The young ladies would all be attired in white satin, Anne with silver lace adornments, Georgiana with lilac tissue, and Kitty with pink crepe. Lady Catherine herself, of course, was to be more magnificent than all the others together:  she was having fashioned a ruby velvet gown that clung severely to her stately figure, with gold spangling and gold fringes, and the de Bourgh parure of rubies, tiara, and stomacher, necklace and bracelets.  
"I hoped," Elizabeth sighed to her husband as they were getting ready for bed after a long, long dressmaker-filled day, "to be spending time with the Gardiners, walking in the park, and going to the picture-galleries.  That is what I hoped from a visit to London."
"Are you very much disappointed?" asked Darcy, concerned, putting his breeches on a chair and reaching for his night-shirt.  "If you are, we must put a stop to all this."
"To stop it!" she exclaimed. "Are you mad, to think there is any force on earth that could stop Lady Catherine?  And what about all you have had to spend on this fanciful outfitting? For I have noticed that all the bills have been sent to you," she finished unhappily.  "Whereas I would not wish to waste your money for the world."
He shrugged. "At least Lady Catherine is paying for Anne," he said.  "But I don't care about the cost, unless it makes you ill or unhappy, Elizabeth.  That must not be."
"Oh, do not worry about me," she answered with a little laugh. "It is of no great import. Goodness knows, Kitty is in a perfect Elysium of her own desire, and I do not believe Georgiana can be spoilt."
"No, I am sure of that," he agreed.
"So let it go forward. The horrid evening is almost upon us, and we will soon be rational again."
"Will we?" he said with a smile, and pulled her down to lie beside him.
*****

It was over. Elizabeth had been presented as the wife of Mr. Darcy, and the three young ladies had made their curtsies as well. Now there was a grand collation, beneath all the crystal and glass candelabra of St. James's Palace, and Elizabeth could sit on a small and uncomfortable ornate French chair and eat ices.
Darcy stood by her, and they were able to amuse themselves with sotto voce comments, since Lady Catherine was not near them; she had found a group of her contemporaries, doughty older ladies, and they were sitting at a card-table, nodding their high feathers, sparkling their jewels, waving their fans, and bragging about their children.
"My Anne," Lady Catherine said, "is the most remarkable girl; there is not another in the kingdom who can surpass her for real nobility, and she is sure to be snapped up in her first season."
"She has no title, has she?" loftily said Lady Engadine. "Now my Maria is a Countess in her own right.  With her fortune, she is sure to go sooner than your Anne."
"Really, I beg to differ with you both," put in Viscountess Marchbanks. "My Caroline has both beauty, nobility and wealth, and she is young. Only eighteen. I always think that when young ladies come out when they are elderly, there is something wrong with them."
"Wrong!" gasped Lady Engandine. "Why, Maria is barely over twenty."
"Twenty six," said the Viscountess curtly. "I know, because your governess came to us after she had finished Maria's education – these seven or eight years ago. And Anne de Bourgh must be the same age."
"Yes, yes she is," hastily said Lady Catherine, not wishing to reveal that her daughter was much closer to thirty. "But what of it? She is the most delightful girl in the kingdom, and any young man would be fortunate to get her – though of course I would not part with her but to some one of rank and fortune."
All three ladies looked rather grimly at Anne, who was sitting listlessly at her mother's side, having refused all partners.
"Anne, this is absurd, I must have you dance," hissed Lady Catherine at her. "I shall bid Darcy to find you a partner."
"I am too tired, mama," said Anne indifferently. "And I do hate it so."
At that moment, a young man who had been standing nearby and watching the ladies for some little time, approached Lady Catherine, and bowed politely.
"Excuse me, I believe – tell me if I am in error, but you are Lady Catherine de Bourgh, the widow of Sir Lewis, are you not?"
"That is true – I am," she answered in some surprise.
"Well – my father knew him many years ago. They were at school together, and I remember him saying that Sir Lewis was the finest young fellow in the world. To think of meeting you here!"
"Oh, is that so?" said Lady Catherine, with something close to a simper. He was a very handsome young man, in his late twenties, with dark curly hair and expressive eyes. "Whom do I have the honour? – "
"I am Sir Maurice Townley," he said with a charming air and bow.
"Maurice? That has a French sound to it."
"Yes; my mother was a French countess. My father of course was of the Townleys who have lived in Bedfordshire time out of mind; of very good estate."
"Is that so? Are you acquainted with the Huntingtons?"
"Oh yes! I was at Oxford with the eldest son."
"And are you an eldest son?" the Viscountess put forth directly.
"Alas, no; Townley Castle is my brother's property, and care.  But I have been well provided for, and have my own property, an adjoining estate, where I breed horses."
"What brings you to London, and to Court?" interrogated Lady Engandine suspiciously.
"Ah, a farmer must take a wife!" he said with a deprecating air. "And where better than here could I find a wife of the best bloodlines, the highest breeding?"
"You speak truly, Sir Maurice," conceded Lady Catherine. The ladies fell silent for a moment and looked sideways at one another, sure that this paragon would ask one of their daughters to dance – but which one?
"If I may," he said smoothly, with a beautiful bow before Anne, "this is your daughter, Lady Catherine, and I must confess that I came this way because I was so bewitched by her uncommon modesty, and beauty of a lady-like kind that you so seldom see."
Lady Catherine and Anne looked nothing alike, but they now wore identical open-mouthed expressions.
"I notice," he said to her earnestly, "that you have not danced; and I cannot blame you, for where is a candidate suitable for your hand – even for the span of a single dance? But I must entreat you – dare I? to stand up for me, for ever so short a time. It would mean worlds to me."
His dark eyes looked deeply into hers, and Anne stood like an automaton and gave him her hand. He swept her away, and soon they were revolving with the couples in the center of the room, in a new and shocking dance from Vienna called the Waltz.  Anne did not know it, of course, but with Maurice's arm around the waist, steering her, she followed, mesmerized. The ladies watched speechlessly.
Elizabeth was not struck that way.  "My love," she asked, "who is that very handsome man, waltzing – waltzing of all things – with Anne?"
His eyes narrowed. "I have no idea," he said, "but I don't like the look of him at all.  I shall find out at once.  If he is not a rogue I have never seen one."
He strolled over to where Lady Catherine was sitting, leaving Elizabeth to distractedly watch her two charges, Georgiana and Kitty, who were enjoying themselves with their partners, two young men who were the sons of neighbors in Derbyshire.
"What is the name of the gentleman with whom Anne is dancing, Aunt Catherine?" interposed Darcy.
"Why, Darcy, how good of you to take an interest in your cousin. That is Sir Maurice Townley, of the Bedfordshire Townleys, to be sure."
"I see.  And do you know any thing about them?"
"I cannot exactly recollect at the moment, but we will look him up in the book when we get home.  Do you know the family?" she turned to the other ladies.
But they only made negative replies, cast down their eyes, and tried to conceal their smiles. They were as certain as Darcy that Townley was a rogue, and with such an one, Miss de Bourgh's fate would be sealed, to her discredit.
"Lord Stenmouth is Bedfordshire born. I see him over there, and will make inquiries."
Darcy stalked over to a knot of older gentlemen directly, and was finished talking to them before Anne and Maurice completed their second dance.
Returning to his aunt, he bent and spoke urgently into her ear. "Aunt Catherine, Stenmouth knows nothing of such a family, and suspects that this young man may be an adventurer. I must insist that you not permit Anne to dance with him again."
"Nonsense! Nonsense! I never saw such a charming young man, and with what manners.  They  positively announce his gentle breeding."
"Manners!  Aunt Catherine, you cannot be too careful after such a warning. What if he is a penniless fortune seeker?  Would you wish Anne to dance with such a man?"
"He cannot be that.  He is as well dressed as you yourself are," she said, looking pointedly at his waistcoat and neck cloth, which were simple evening wear, not over ornamented.  "Indeed, rather better. I think I am a good judge of character, Darcy, indeed am far famed for it.  Therefore I must insist you mind your own business, which is Georgiana.  I will not have you interfere in what may be a – a most promising friendship.  I assure you he was very much struck with Anne!"
He looked at her incredulously. "And does that not make you suspicious?" he asked.  "What is it that attracts him?  Her appearance – or her having been presented at Court, as coming from a very great and wealthy house?"
"What of that?  He would not be here if he was not worthy of an invitation to Court himself."
"My dear Aunt – if you were to know how every one in the room got here, you would not say such a thing. All manner of riffraff find a means of admittance to Court."
"You will allow me to judge for Anne, myself."
"Very well.  I have warned you, I will say no more."
Troubled, he returned to Elizabeth, and they watched anxiously as the pair danced succeeding dances with an inappropriate exclusivity that began to attract comment.
"I hope," said Elizabeth, "that at least this evening will be an end of it; we will go home, and this man will be heard from no more.  Dear me! This is unfortunate."
"Most," said Darcy unhappily.
At the end of an evening, at which Anne looked more and more strangely exalted, and her mother puffed with pride, as their party stood to go, Maurice Townley whispered a long aside to Anne, and made his bows and then his exit.
Darcy sighed.  "Well at least," he said, "there is an end to that.  And good riddance to him."
"Darcy! How can you say such a thing," said his aunt, her eyes brighter and more animated than he had ever seen in her before.  "I will have you know that our dear Maurice will be calling upon Anne tomorrow, and that I have every intention of inviting him back for a visit to Rosings!"
Published
March 27, 2013
|
By
Diana Birchall
Welcome to the seventh installment of The Bennet Brother, the interactive group writing project from Austen Authors! At the end of this segment, you'll have a chance to vote on what happens next. There are also extra details on Twitter, where this story has taken on a life of its own. Mr. Edward Bennet (@edwbennet) already has a notable presence and regularly interacts with readers, including this interview with Miss Leatherberry on Leatherbound Reviews:
Interview with Mr. Edward Bennet
Full details on Pride & Prejudice Reader's Choice can be read by clicking to the page via the menu above or the icon to the left.
Voting for today's installment will end at 6am tomorrow – Thursday, March 28. Next week, the story continues with a new addition by Jane Odiwe.  The previous five installments can be read in order on The Writers Block.
And, now, without any further ado, here is Scene #7 by Diana Birchall:
Pemberley was all in confusion. Its master lay in bed, having suffered a setback in his recovery. That he should have risen to his feet, still so weak from loss of blood, attired himself and opened his chamber door, was risky behavior enough; and Mrs. Reynolds, the housekeeper, could never forgive herself for not sitting up with her master. By her cool manner she made it clear that she felt the visitors were to blame; for this could never have happened if that Bennet brother had not come a-visiting Pemberley. Continue reading →
Published
March 26, 2013
|
By
Shannon Winslow
Would you care to take a long ramble round the expansive park at Rosings? Or how about a little three-mile scamper across fields and over stiles to Netherfield? Or must I call you a carriage? We all know how Lizzie Bennet would answer these questions.
"I do not wish to avoid the walk. The distance is nothing when one has a motive; only three miles. I shall be back by dinner." (Elizabeth, Pride and Prejudice, chapter 7)
Jane Austen often used a person's activity level as a clue to character when telling her stories. She made her favorites lively and energetic. This is best personified in Elizabeth Bennet, but the adolescent Catherine Morland was quite athletic as well (horseback riding, rolling down hills, playing baseball and cricket), and the two younger Dashwood sisters were thrilled when rain gave them the excuse to race down hill for home.
Less admirable Jane Austen characters often demonstrate more slovenly habits (think Mr. Hurst or Lady Bertram). And even though Elizabeth loved her father dearly, his indolent habit is one reason that neither she nor Austen fully respected him.
The fact that Austen expects her heroines, as well as her heroes, to be physically active, puts her ahead of her time, since fine ladies of her day were not encouraged to much exert themselves. Dr. Fordyce, in his famous Sermons to Young Women, frowned on vigorous exercise for females, advising that it was "manly" and "ungraceful." It would, therefore, have been deemed counterproductive to snaring a husband - the primary goal for every young lady at that time.
Not surprisingly, then, Elizabeth's walk to Netherfield dismayed her mother and positively scandalized Mr. Bingley's sisters. Continue reading →
Published
March 25, 2013
|
By
Susan Mason-Milks
I've been thoroughly enjoying the P&P Reader's Choice story along with the rest of you. Isn't it amazing? Based on how the story is going, I can't wait for my turn to write, which should be some time in May. In the meantime, I started thinking about what Edward, Lizzy, and the others might have been like as younger children. That gave me the idea to write about one of their adventures! In this story, Lydia is about five which makes Lizzy ten, Jane eleven and Edward about twelve. Starting with some assistance from a friend of mine and fellow writer, Frances Simmons, who helped with some key elements of the story, I let my imagination take off and what follows is the Bennet children's adventure in the snow.
In Which the Bennet Children Have an Adventure!
"It's not fair!" five-year-old Lydia demanded. "I want to go, too!"
Lizzy and Edward turned and said simultaneously and rather loudly, "No!"
At that, Lydia burst into tears. Edward, Jane, and Lizzy were on their way outside for a walk and in no mood for their little sister to tag along. Lydia never wanted to be left out, and although the older children often indulged her, they were not going to let her spoil their big plans for the day this time.
So far, winter had been rather chilly and damp allowing limited opportunities between storms for outdoor diversions. Last night, to the delight of all, snow had fallen. The drop in temperature also meant that some of the local streams and ponds had frozen over. Today the sun was out in full force causing the snow to sparkle like tiny fairy wings, tempting the children to venture out to enjoy the clear, cold air. In short, it was a perfect day for an adventure.
As the intrepid trio was donning their warmest clothing, laughing about all the fun they would have on their walk, their youngest sister Lydia had begged to go along. Shedding big sloppy tears, Lydia did everything but throw herself on the floor in a tantrum to coerce her siblings to include her. She could not understand why it wasn't working. Generally, when she put up this kind of fuss, she got her way.
Jane bent down and gave her little sister a hug. "We will take you along another time, Lyddie. Not today. It is quite cold out there, and we are going for a very long walk. It wouldn't be much fun for you. I will have tea with you and your dolls when I return," Jane said kindly, kissing Lydia on the forehead. "How would that be?" Continue reading →
Published
March 22, 2013
|
By
Abigail Reynolds
I spent last weekend playing the part of Jane Austen. I flirted with Tom Lefroy, squabbled with my brother Edward Austen Knight, and played whist with sister Cassandra and sister-in-law Eliza – and the gentlemen were wearing knee-breeches. How fun is that?
Well, it was lots of fun! It was the first of three Jane Austen re-enactment events at Milwaukee's Schuster Mansion, so we had a fine historical backdrop as well – early Victorian instead of Regency, but who's counting? The Midwest is rather short on authentic Regency sites.
There are lots of events out there for Jane Austen lovers, and I've been to many of them, from book clubs to the Jane Austen Festival in Bath, and from the JASNA Annual General Meeting to JAFF gatherings. It's hard to go wrong, since I love hanging out with other Austen fans. Continue reading →
Published
March 21, 2013
|
By
Sally Smith O'Rourke
All writers know the emotions that fueled Jane's description of P&P as 'my darling child'. You nurture an idea, an embryo if you will, until it reaches maturity. Then with heart in hand you send it out into the big wide world. You attempt to protect and defend it from the onslaught of agents, editors and the dreaded 'blue pencil' (not that anybody uses a blue pencil anymore, but you get my meaning) balancing your vision with the sometimes harsh comments and changes required by an editor who just doesn't seem to get 'it'. Ultimately it gets done and the revisions are accepted.
Your stomach jumps when a cover arrives and you see your name in print, officially, for the first time. After the copy edit is done you get the galley and you see your words in print bound as a book. It's exciting. It was weird seeing my name on the even numbered pages of The Man Who Loved Jane Austen. As many of you know the first three books published with my name were collaborative efforts with my late husband, Michael. I had sent the first of the three out into the publishing world because I didn't want them to die with him and they didn't, not because of any ability I have but because of his talent. Continue reading →
Published
March 20, 2013
|
By
Marilyn Brant
Welcome to the sixth installment of The Bennet Brother, the interactive group writing project from Austen Authors! At the end of this segment, you'll have a chance to vote on what happens next. There are also extra details on Twitter, where this story has taken on a life of its own. Mr. Edward Bennet (@edwbennet) already has a notable presence and regularly interacts with readers, including this interview with Miss Leatherberry on Leatherbound Reviews:
Interview with Mr. Edward Bennet
Full details on Pride & Prejudice Reader's Choice can be read by clicking to the page via the menu above or the icon to the left.
Voting for today's installment will end at 6am tomorrow – Thursday, March 21. Next week, the story continues with a new addition by Diana Birchall. The previous five installments can be read in order on The Writers Block.
And, now, without any further ado, here is Scene #6 by Marilyn Brant:
"A Night of Revelations at Pemberley"
Lizzy palmed the watch in her pocket numerous times, then traced the engraved initials with the pad of her thumb. The weight of her forthcoming revelation was far heavier than that of the golden timekeeper, but the dread etched upon her heart was as surely scripted as the letters "GW" upon the object in her possession.
She drew in a deep breath, calling upon her usually unfailing sense of courage, despite the awkwardness of the situation. Mr. Darcy should and would be told the truth, but perhaps she ought to wait until his complexion looked less pale? Until after he'd eaten at least a few morsels of his meal? She wouldn't want to be responsible for undoing the remedies Mr. Morgan had provided too quickly, although she took some comfort in knowing the skilled surgeon wasn't far away.
"It would be a pleasure to dine with you, Mr. Darcy," she said at last and with a smile, radiating what she hoped was a look of reassurance at him, rather than the near panic she actually felt.
He smiled back, the expression of pleasure bringing a hint of color to his noticeable pallor. Continue reading →
Published
March 20, 2013
|
By
Regina Jeffers
Austen Authors and Syrie James are proud to announce the winner of James's The Missing Manuscript of Jane Austen from the Jane Austen Tour: Seascapes and Landscapes post. Emily Bell, please contact giveaway coordinator, Regina Jeffers at either contests@austenauthors.com (or) regina@rjeffers.com to claim your prize. In the email, leave your name and mailing address. 
*Giveaways
Enter our monthly contest using the Rafflecopter form on the
Giveaway Page.
All rules and prizes are listed there! Click the image or link provided.
Purchasing
Austen Authors Amazon Marketplace
Amazon.com