Published
September 23, 2012
|
By
Regina Jeffers
When Bingley entered the morning room, finding Darcy dressed for a journey brought a surprise to his friend's countenance. "Darcy, it appears that you plan to leave Netherfield today?"
"I do, Bingley." He had spent a restless night anguishing over what he would say to his best friend.
"Why must you leave so soon? Are you not satisfied at Netherfield? I know country society does not appeal to you, but I had hoped you would find it more pleasurable this time," Bingley reasoned.
"Bingley," Darcy established the tone of what he had would confide. "Would you please join me at the table? I have something important to impart."
"Darcy, you sound so deliberate." Bingley walked cautiously to the table and slid onto a chair. Continue reading →
Published
September 22, 2012
|
By
Regina Jeffers
This short excerpt comes from Chapter 15 of my first novel, Darcy's Passions. 
Several of the Bennet sisters welcomed Bingley and Darcy upon their entrance to Longbourn. Elizabeth took their greatcoats and briefly greeted Darcy with a hint of a smile and an obligatory curtsy. When they repaired to the dining room, Darcy had hoped to be seated near Elizabeth, but finding himself seated instead close to Mrs. Bennet dashed those hopes. Bingley located a seat near Jane Bennet; oh, for such pleasure with Elizabeth! Darcy could hear nothing of what she said. Only once did he notice Miss Elizabeth's attentions towards him. It was when Bingley placed himself beside Miss Bennet; Elizabeth gave Darcy a triumphant look, and he bore it with presumed indifference. The meal included venison and a white soup. Darcy attempted to make conversation with Mrs. Bennet, "I extend my compliments on the partridge, Ma'am," he said a bit awkwardly.
"Thank you, Mr. Darcy," the house's mistress said with equal awkwardness. However, Darcy noticed that his words had obviously pleased Elizabeth's mother.
She clearly had made a statement with the menu, and his good breeding required he take notice, but he would rather have taken notice of her second daughter's eyes. Generally though, Darcy spoke very little to anyone at the table. Continue reading →
Published
September 21, 2012
|
By
Shannon Winslow
A couple of months ago, my friend Susan Mason-Milks did a lovely ambassador-for-the-Pacific-Northwest post here about Seattle, her home town and mine… sort of. I actually live in the countryside considerably south of the city, in the next county in fact. And whereas King County boasts Seattle and the Space Needle, Pierce County has an even bigger claim to fame, all 14,410 feet of it: Mt. Rainier, and I'm staking bragging rights to it.
Family responsibilities kept me and my husband pretty close to home this summer, but fortunately we have a little slice of heaven – an amazing national park – practically in our backyard. So, two weeks ago, we finally managed to sneak off for a few days to our favorite destination. We hooked up the camp trailer and headed for "the mountain," as everyone around here simply calls it. No phones. No internet. No job to go to. I took my laptop along so I could do some writing (current work-in-progress: Return to Longbourn), but the main point of the expedition was to get away from it all and enjoy the great outdoors – a mental health holiday.
"I shall soon be rested," said Fanny; "to sit in the shade on a fine day, and look upon verdure, is the most perfect refreshment." Mansfield Park
As many times as I've been to Mt.Rainier, it still possesses the power to awe me. It's big, really big, and breathtakingly beautiful in every season. Continue reading →
Published
September 20, 2012
|
By
Susan Mason-Milks
Fall is in the air and what fall would be complete without that dreaded first writing assignment of the school year – "How I Spent My Summer Vacation." I'm sure you all remember struggling over at least one of those essays. Sitting at the ___ (fill in work space of your choice) staring at a blank sheet of paper, praying for inspiration, asking yourself "What the heck did I do this summer?" and most importantly, "Where did summer go?"
I seem to recall that years ago when I was teaching  I gave dreadful assignments like this, too.  (My sincerest apologies to any former students who were scarred for life.) Lately, my mind leaps off rather nimbly in wild directions, one thing leading to another until I began to wonder just what the Bennet sisters would say about their summer activities. Rather than an essay, I've suggested each character share just a few notes about her summer:
Elizabeth – Traveled with Aunt and Uncle Gardiner. Toured Pemberley and accidentally saw Mr. Darcy again. Was totally mortified! The alteration in his manner was astonishing. Just as I was beginning to think he might still hold me in high regard, my silly sister, Lydia, eloped with Mr. Darcy's arch-enemy, George Wickham. Returned home in disgrace and will undoubtedly never see Mr. Darcy again! Must ask Jane about dealing with broken heart. Continue reading →
Published
September 19, 2012
|
By
C. Allyn Pierson
Tonight I learned something. Now, learning something is a common event for me…my work as a physician not only needs constant updating, but it is a required part of my licensing, but I must admit that I am an information junkie. When my eldest son was living at home and would ask me something I did not know the answer to I would spring into action, first with reference books and dictionaries, later with that wonderous friend of the researcher: the computer. The personal computer has seriously enabled my obsession with information and set the bar significantly higher for adequate cruising on the information highway. When a few years ago a dictionary entry would be acceptable to me, now I need a Wikipedia article followed by at least three knowledgeable websites and possibly several books, if it is a subject included in my library.
I try not to be priggish about my obsession, but I am afraid that I have become rather…ummm, let us wrap it up in clean linen and call it pedantic. This is, I must confess, not a recent problem, but has worsened over the years…rather like the progression of consumption. And it has definitely had its effect upon my family. My eldest son would wince when he would ask a casual question and I would leap for the reference shelf and tell him about 20 times more details than he wanted to know about the subject. Years ago, when our children were still fairly young, my husband went to bed early and I stayed up reading. After about an hour he reappeared, chuckling, and said, "I just had a dream that I MUST tell you about." So here it is:
"We were at a zoo, in the petting area, where they were giving rides to whoever wanted one on this huge animal. It looked like a Musk Ox except  it was about 10 feet at the shoulder, long shaggy hair that went almost to the ground. Actually, they looked like those huge hairy things with curled horns that the Sand People rode on Tatooine in Star Wars, called a Bantha. There was a saddle-like contraption on the back where several people could sit and hold on while they rode, but they offered me a spot up on the animal's neck. I took the ride and it was thrilling up there, but the ride ended and you were waiting for me. I looked back at the creature and said, 'Wow! What is that thing?' and you answered, 'It is a Tibetan Bak, spelled B-A-K, but an accepted alternative spelling is B-O-E-K-K-E.' " Continue reading →
Published
September 19, 2012
|
By
Regina Jeffers
Returning to the security of Pemberley, having both Georgiana's and Bingley's company brought Darcy comfort. The turmoil of the past few weeks had taken its toll on his usually resilient composure. He required the company of family and friends after his dealings with the nefarious Mr. Wickham. Yet, being with Bingley constantly reminded Darcy that he must make amends for his duplicity in separating Bingley from Jane Bennet. One early autumn day, he and Bingley sought time outdoors.
Bingley said wistfully as he accepted the loaded gun from Darcy's servant, "I believe the last time we partook of the season's shooting was at Netherfield."
"I believe you correct, Bingley," Darcy paused as he planted the idea. "That was a pleasant time, was it not?" Although he did not purposely initiate it, a sigh slipped from his lips. If he were to maintain his sanity, he desperately needed to know Elizabeth's company again. "I was wondering, Bingley, have you made a decision on Netherfield? It appears a waste of your father's inheritance to let an estate one never uses."
As expected, Bingley readily seized upon Darcy's veiled suggestion. "Not having stayed through the winter, I remain uncertain of the house's soundness. Mayhap I should return to Netherfield and make my decision based on what I find."
"That appears a most prudent means of making a your verdict."
Bingley asked cautiously, "Would you consider joining me, Darcy? We could shoot, ride, and enjoy my estate. My sisters remain in Hampshire. I would be indebted if you would come with me."
Darcy chuckled with the success of his ploy. "I would enjoy that, Bingley."
"Capital! I will send servants to open the house. We could travel to Hertfordshire next week if you are agreeable." Continue reading →
Published
September 18, 2012
|
By
Alyssa Goodnight
I am current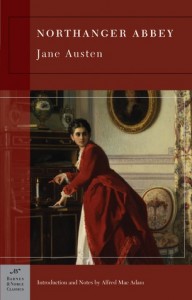 ly poring over the page proofs (the final version of the novel before printing) of Austensibly Ordinary, my January 2013 release, hoping (praying) I catch every little inaccuracy that might remain. I am also re-reading Northanger Abbey, an intention which has been a long time in coming. I started it last weekend, and it was, at least partially, because I was in the mood for Fall, and a Gothic novel (or even a spoof of a Gothic novel) feels like Fall to me. Coincidentally, Austensibly Ordinary is set in the fall, so reading it again has gotten me even more eager for the changing of the seasons. I'm having to force myself to resist the pumpkins at the grocery store and keep from pulling out my colorful Fall decor. Maybe after I get my page proofs turned in…
If memory serves, Northanger Abbey was the last among all six Austen novels that I read, and as is pretty typical for me, I remember enjoying it, but I don't particularly remember *it*. Perhaps I was distracted (or pregnant!) or simply oblivious, because I do not remember thinking while first reading it that it was Jane Austen's playful attempt at a Gothic novel. But it is obvious to me now.
I love all the tongue-in-cheek commentary on Catherine looking and behaving as a heroine (or not!) , and it's funny, because the protagonist of Austensibly Ordinary, Cate Kendall, has, at the opening of the book, decided that she's looking to be a heroine as well. Although she's not quite certain what sort she'll be…
Catherine shortly meets Henry Tilney, and he teases her about what she now must write in her journal after their quirky, strange introduction: Continue reading →
Published
September 17, 2012
|
By
Mary Simonsen
The winners of Darcy Goes to War are:
Paperback: Laura Sass
E-book: Audra
I will contact the winners by e-mail. Thank you all for entering my giveaway. I really enjoyed reading your comments.
Published
September 14, 2012
|
By
Diana Birchall
On Saturday Syrie James and I once again played Jane Austen and Charlotte Bronte respectively, in my play "You are Passionate, Jane," which JASNA-SW presented as a staged reading at the Pasadena Library. There were more than 100 people in the audience and the Los Angeles "debut" went as well as Seattle's did – and Syrie and I had the same heavenly whale of a time. Professor Lynn Batten gave a wonderful talk on where Jane Austen's writing fits stylistically between authors of the Regency period and Victorian times. This was the perfect preface to the play, which has Austen and Bronte "duking it out," as he put it, in Paradise!
The play has now been videotaped (though I haven't yet seen how it came out), and we also hope to perform it other cities, but because such plans are as up in the ether as the play's characters, I thought it might be fun to share a little excerpt here:
"You are Passionate, Jane"
 Jane Austen and Charlotte Bronte:  A Conversazione (Made in Heaven) by Diana Birchall Continue reading →
Published
September 13, 2012
|
By
Regina Jeffers
Next Tuesday, on Austenesque Extravganza, I will be interviewing our favorite bad boy, Mr. George Wickham. Actually, I have scheduled a celebrity intervention, but as a preface to that momentous event, I thought we might take a closer look at George Wickham's importance to the Pride and Prejudice's plot. For a minor character, with few lines and little description, the action of Pride and Prejudice greatly rests on the scoundrel's shoulders.
What do we know of George Wickham? There is much in Jane Austen's introduction of Mr. Wickham.
But the attention of every lady was soon caught by a young man, whom they had never seen before, of most gentlemanlike appearance, walking with an officer on the other side of the way. The officer was the very Mr. Denny, concerning whose return from London Lydia came to inquire, and he bowed as they passed. All were struck with the stranger's air, all wondered who he could be, and Kitty and Lydia, determined if possible to find out, led the way across the street, under pretense of wanting something in an opposite shop, and fortunately had just gained the pavement when the two gentlemen, turning back, had reached the same spot. Mr. Denny addressed them directly, and entreated permission to introduce his friend, Mr. Wickham, who had returned with him the day before from town, and he was happy to say, had accepted a commission in their corps. This was exactly as it should be; for the young man wanted only regimentals to make him completely charming. His appearance was greatly in his favour; he had all the best part of beauty — a fine countenance, a good figure, and very pleasing address. The introduction was followed up on his side by a happy readiness of conversation — a readiness at the same time perfectly correct and unassuming; and the whole party were still standing and talking together very agreeably, when the sound of horses drew their notice, and Darcy and Bingley were seen riding down the street. On distinguishing the ladies of the group, the two gentlemen came directly towards them, and began the usual civilities. Bingley was the principal spokesman, and Miss Bennet the principal object. He was then, he said, on his way to Longbourn on purpose to inquire after her. Mr. Darcy corroborated it with a bow, and was beginning to determine not to fix his eyes on Elizabeth, when they were suddenly arrested by the sight of the stranger, and Elizabeth happening to see the countenance of both as they looked at each other, was all astonishment at the effect of the meeting. Both changed colour, one looked white, the other red. Mr. Wickham, after a few moments, touched his hat — a salutation, which Mr. Darcy just deigned to return. What could be the meaning of it? — It was impossible to imagine; it was impossible not to long to know. Continue reading →
*Giveaways
Enter our monthly contest using the Rafflecopter form on the
Giveaway Page.
All rules and prizes are listed there! Click the image or link provided.
Purchasing
Austen Authors Amazon Marketplace
Amazon.com