Published
February 1, 2013
|
By
Regina Jeffers
February brings us thoughts of romance, and Austen Authors does not fail is spreading the "love" about with fabulous giveaways. This month we offer up the following temptations…
Sharon Lathan will present one lucky winner with an ARC of her April 2013 release of The Passions of Dr. Darcy.
Susan Adriani offers one of our followers an autographed copy of The Truth About Mr. Darcy.
Sally Smith O'Rourke is feeling doubly generous. Sally will present one of our group with an autographed copy of Christmas at Sea Pines Cottage and another an autographed copy of Yours Affectionately, Jane Austen.
With her February post, Regina Jeffers will give one of those who leave comments an autographed copy of her February Regency release of His: Two Regency Novellas. A second winner will received an eBook version of the book. 
Abigail Reynolds will present one lucky winner an autographed copy of Mr. Darcy's Undoing.
Finally, on February 26, Shannon Winslow will celebrate the release of newest Austen-inspired novel, Return to Longbourn, by presenting two winners copies of the book. Winners may choose between a print or an eBook copy.
Published
January 31, 2013
|
By
Colette Saucier
"In vain I have struggled. It will not do. My feelings will not be repressed. You must allow me to tell you how ardently I admire and love you."
These words first published 200 years ago this week – and just before St. Valentine's Day – perfectly express a theme found not only in literature but in our lives as well. The heart wants what the heart wants, despite any reasoning against it.
Two central motifs dominate Pride and Prejudice: love and money. For some characters, the two go hand in hand, as with Mrs. Bennet's hope that a young man of large fortune "will fall in love with one of" her daughters. Even she is not so callous as to hope for marriage without love; and once Mr. Darcy has insulted the least favourite of her children, his ten thousand a year loses its luster.
The association of the human heart to love and, indeed, all passions goes back to ancient times. Jane Austen could not have known that the embryonic heart begins beating before the brain has formed, or that a person may be declared "brain dead" whilst the heart beats still. Yet, she weaves the idea of heart over head throughout the narrative in such a way that one is left to wonder if she herself has taken a position in favour or against. Although clearly dismissive of love at first site and that "hackneyed" expression "violently in love," Miss Austen comes across as ambiguous at best, even qualifying the basis of her heroine's change of heart – "If gratitude and esteem are good foundations of affection, Elizabeth's change of sentiment will be neither improbable nor faulty." – with IF. Continue reading →
Published
January 30, 2013
|
By
Abigail Reynolds
Welcome to first installment of The Bennet Brother, the new interactive group writing project from Austen Authors!   Two weeks ago readers voted on a starting scenario for this Pride & Prejudice variation, choosing The Bennet Brother over two other options.  At the end of this segment, you'll have a chance to vote on what happens next.  Given that the next installment will be written by Jack Caldwell, I'd choose your option with care!
Full details of the P&P Readers Choice event can be found here, and you can read some of my thoughts about the background of this particular story here.  There are also extra details on Twitter where this story has taken on a life of its own.  Mr. Edward Bennet (@edwbennet) already has a notable presence and regularly interacts with readers.
The Bennet Brother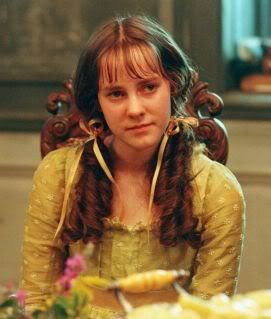 Lydia angrily threw down the sprigged muslin dress. "This frock is three seasons old, and everyone knows it was Kitty's first! Look, you can see where the hem was let out. How can I go to the assembly dressed like a pauper?"
Jane picked up the dress and dusted it off, then folded it neatly. "Perhaps we can sew some trim over the old hemline. I have some new blue ribbon would match the flowers on it perfectly, and it would make it look quite different."
Mrs. Bennet bustled up and took the dress from her eldest daughter. "Nonsense, Jane. That ribbon is for your hair. You must look your most beautiful when you meet Mr. Bingley!"
Lydia stamped her foot. "Why can't I be the one to look beautiful for Mr. Bingley? I would look as pretty as Jane in a new dress and new ribbons!"
"Do not fret, my pet. You will have your chance, but Jane has the best chance of fixing Mr. Bingley's interest now. Just imagine, when you are one-and-twenty, Edward may be able to take you to a ball in London in a new gown! But Jane cannot wait so long. She will be too old by then."
"Edward, Edward, Edward! I am sick of Edward! Edward gets to live in London. Edward gets fashionable new coats from London tailors. Edward gets a manservant to starch his cravats. And we get nothing! It isn't fair!" Throwing herself into a chair, Lydia crossed her arms and pouted.
Jane said comfortingly, "You know it is an investment. Edward needs to look the part of a gentleman if he is to catch the interest of an heiress."
"It does not seem to have helped him so far! And how am I to catch a husband when I look like a poor relation?"
Exasperated, Lizzy said, "You are fifteen years old! You should not even be out, much less trying to catch a husband. If Edward were here, he would stop you from attending the assembly at all, dressed like a pauper or not!"
"Then I hope he never comes home!" Lydia stalked out of the room.
Mrs. Bennet looked after her. "That girl has no pity on my nerves! Of course she wishes for a new dress, and I would be very happy to have one myself. When I was a girl, I dearly loved a new dress." She smoothed the skirts of her well-worn day dress, then followed her youngest daughter, leaving her two eldest daughters alone.
BE SURE TO VOTE – Click on Continue Reading…
Published
January 29, 2013
|
By
Alyssa Goodnight
Ever since writing Austentatious, I've been boggled by the number of people who are confused by the spelling of that word. (The correct spelling being, of course, 'ostentatious.') So many have embraced 'austentatious' as the correct spelling, and I admit, it has me wondering whether it's because they associate the word somehow with Jane Austen.
But Jane Austen doesn't exactly scream 'ostentatious' [marked by conspicuous, pretentious or vainglorious ways]." She lived a quiet life and contented herself with family, friends, and her writing, which I wouldn't exactly describe as ostentatious either. I confess: I'm baffled.
I liked it for my first Jane-inspired novel, both because it was a clever play on words (word?) and because it seemed to fit the manner that Jane had appeared in the novel in modern-day Austin, Texas. With no warning but with very specific intentions and bits of advice. She is utterly no-nonsense and absolutely convinced of her eventual success in a spot of twenty-first century match-making.
She and the journal are back in my latest release, Austensibly Ordinary, and Jane is just as feisty this time around! The storyline draws from my favorite Austen classic, Emma, so you can expect match-making, misunderstandings, and plenty of mischief. This time around, the title continues on trend and implies that perhaps not everyone is as they seem… This word seems a much more accurate descriptor of Ms. Austen, and I will definitely be watching to see if there is also widespread misspelling of the word 'ostensibly.' I'll keep you posted.
Until then, I'll offer a blurb for Austensibly Ordinary and a quick preview:
Cate Kendall is no stranger to daydreams of brooding men and fancy parties–after all, she teaches one of her beloved Jane Austen novels in her English classes every year. But as for romance or adventure in her own life, the highlight of most weeks is Scrabble with her cute coworker, Ethan, and he draws the line at witty banter. But Cate is ready for a change. When she finds a mysterious journal that seems to have a link to the soul of the great Jane Austen herself, she knows it's her chance. And she grabs on with both hands… Continue reading →
Published
January 28, 2013
|
By
Jack Caldwell
Mr. Darcy's P&P POV (the abridged version)
Part 8
Greetings, folks. Jack Caldwell here. This is Part 8 of my little work-in-process. For Part 1, go here, Part 2, here, Part 3 here, Part 4 here, Part 5 here, Part 6 here, Part 7 here.
The completed story will be eventually posted in its entirety at Austen Authors' The Writers Block and at my own Ramblings of a Cajun in Exile. But you don't want to wait until then, do you?
Remember, comments are required.
~~~
PART 8
Chapter 32 –
I arise early, as is my wont, and have an abbreviated breakfast in peace—thank heavens Fitzwilliam sleeps late during his visits to Rosings. I am in no mood for his jests today. I am on the edge of a momentous decision, and I must focus all my facilities to that resolution.
As usual, Anne remains above stairs, and I take this opportunity to speak with her. Aunt Catherine only arises at fashionable hours, and as Anne's companion knows to keep silent, this interview should escape my aunt's notice. I find my cousin in her private sitting room, attended by her companion, but besides a short greeting she says nothing. I attempt to engage her in conversation and am awarded with little more than monosyllabic responses. I soon take my leave, to her palpable relief. This is consistent with her behavior on all of my previous visits, and I am satisfied Aunt Catherine has failed to raise her expectations. I do not know what Anne wants, but I am secure in the knowledge that it is not marriage with me.
I am outside, the day is fine, and I should enjoy a ride about the park, but I spy the parsonage. Hmm…I really must call upon the ladies. Riding can wait.
~~~
Well, that went well—not.
I admit I was taken aback to find Elizabeth alone, but more surprising was my reaction—how strange that her mere presence can so discombobulate me. All I could manage for the first half of my call was polite inquires about her family in Hertfordshire and some inane observation about the parsonage! Gad, I attended Cambridge! Top marks for logic and debate! One look at Elizabeth's pretty face, and I am a blubbering idiot. I am no better than Bingley! Continue reading →
Published
January 28, 2013
|
By
Sharon Lathan
Live long and prosper, Jane! Yes, mixing my genres there. 
Big day for Austen fans everywhere. I am sharing my thoughts, favorite videos, and much more on my blog. Come on over and celebrate this fabulous day with me: Sharon Lathan's blog
If you missed the fabulous Wall Street Journal article titled "Austen Power" that posted online and in the print newspaper last Friday, 1/25, it isn't too late! Both me and Abigail Reynolds were quoted within the article. You can read it by Google searching for the link (direct linking to WSJ will not work), or read the article in PDF format at this link:
http://www.sscnet.ucla.edu/polisci/faculty/chwe/austen/wsj20130124.pdf Continue reading →
Published
January 25, 2013
|
By
Abigail Reynolds
So, are you ready for Pride & Prejudice Readers Choice?  I'm not!  That's because I'm writing the first scene of this new Austen Authors group writing project, The Bennet Brother, and I'm probably going to need every minute of the next week to get it done.  But it's already proving to be an interesting experience.
The Bennet Brother has made me discover some interesting things I'd never thought about in Pride & Prejudice before.  Here's the eye-opening one:  Darcy would never have made his original insulting comment about Elizabeth at the Meryton assembly if she had a brother or father who would defend her.  I've played it through in all kinds of scenarios with different male characters involved and different social settings in the country and in town, and gentlemen just didn't insult women publicly if they had a male protector around.  Can you imagine Darcy insulting Charlotte Lucas at the assembly?  No, because her father was there and involved with her, and likely a brother or two as well.  Darcy can say what he likes about Elizabeth because he knows she's unprotected.  That concept made me stop in my tracks, I can tell you!
I've also had to rethink my initial assumptions about how things would have changed for the Bennets if they had a son.  Before I started working on the backstory, I assumed this would mean that their future would be assured because of the end of the entail, and that there would be less pressure on the daughters to marry since they wouldn't be losing their home.  Unfortunately, that scenario didn't hold up when I looked at it carefully.
Longbourn barely supports the current seven inhabitants – Mr. & Mrs. Bennet and their five daughters – with no extra income to put aside.  Now, suppose Mr. Bennet dies, leaving Longbourn to his son Edward, who then marries and has three children.  If none of his sisters marry, the income from Longbourn now has to support eleven people.  See the problem?  At least some of the sisters need to marry anyway. Continue reading →
Published
January 24, 2013
|
By
Shannon Winslow
If you've been keeping up with my progress, you know that my third Austen-esque novel debuts next month! It's entitled Return to Longbourn and continues the Pride and Prejudice saga five years after the close of The Darcys of Pemberley. It will be the sequel to my sequel, in other words.
Darcy, Elizabeth, and the full cast of characters are back, but this story centers on Mary, Kitty, and the new heir to the Longbourn estate – Mr. Tristan Collins, the amiable and surprisingly good-looking younger brother of William Collins, deceased.
I know Jane Austen doesn't paint Mary Bennet in a very favorable light. Here's a sampling of her unflattering remarks on the subject:
Mary, who having, in consequence of being the only plain one in the family, worked hard for knowledge and accomplishment… 

Mary had neither genius nor taste; and though vanity had given her application, it had given her likewise a pedantic air and conceited manner… 

They found Mary, as usual, deep in the study..and had some extracts to admire, and some new observations of threadbare morality to listen to.
Despite this, I've always had a soft spot in my heart for Mary. I even suspected she might have the makings of a heroine hidden away deep inside. Continue reading →
Published
January 23, 2013
|
By
Maria Grace
Every job has its hazards, we all know that. As far as dangerous occupations, writing seems like it should be way down on the list right?  Granted carpal tunnel problems from pen or keyboard can be an issue, but beyond that, paper cuts seem like they'd be the next biggest danger.
Well, there are others perils writers face along the journey.
For example, I used to be able to run out of the house without a purse, just a phone and wallet and I was good to go. Now my purse is more like a backpack. I am never without a pen and paper handy, actually two pens, since one will invariably run out of ink at a critical moment, and a highlighter too. Yes, I know about the notepad app on the phone, but the battery can run out and it can hang at the most crucial moment, not to mention research says that we use more of our creative brain capacity when we use pen and paper.
So, my back is at risk if I have to lug that silly purse around too long. Continue reading →
Published
January 22, 2013
|
By
Susan Mason-Milks
Recently, I watched someone's YouTube creation – a scene from Pride and Prejudice set to contemporary music – and it got me thinking. When I read scenes from the story, do I hear contemporary music in my head? The answer is "yes." I do! So, just for fun, I started writing down the songs that came to mind. Most of the songs I've chosen are folk music, oldies, musicals, or American Songbook because that reflects my own taste in music. If you're interested, you can listen to a clip of any of these songs on iTunes and see if you agree with me. In some cases, not all the words in the song are a perfect fit for the scene, but I've included it if the spirit of the song mostly fits.
Darcy really sees Elizabeth for the first time: The Moment I Saw Your Eyes (a barbershop standard)
Elizabeth thinks about Darcy after Meryton Assembly: You're So Vain (Carly Simon)
Darcy While Elizabeth and Jane are at Netherfield: Something (Beatles); The More I See You (Nat King Cole)
Darcy thinking about Elizabeth after she leaves: Fever (Peggy Lee); You Made Me Love You (Judy Garland); I've Got You Under My Skin (Frank Sinatra)
Darcy at the Netherfield Ball: The Way You Look Tonight (Frank Sinatra); Some Enchanted Evening (South Pacific) Continue reading →
*Giveaways
Enter our monthly contest using the Rafflecopter form on the
Giveaway Page.
All rules and prizes are listed there! Click the image or link provided.
Purchasing
Austen Authors Amazon Marketplace
Amazon.com