I have Olympics fever! Only a few more days until the Opening Ceremonies kick off some fierce competition and an intense viewing experience.
This year, as I'm sure you are aware, the Olympics are in London, and thoughts of the Olympics in London have me imagining a different sort of red, white, and blue, fish and chips in newspaper, dreamy accents, and the English countryside. Having just indulged in my first viewing of the 1995 BBC adaptation of Pride and Prejudice, those lush green hills and hedgerows are already fresh in my mind. And I can imagine myself there, visiting, slipping into a Jane Austen storyline. Certainly I could begin by visiting all of Jane's old haunts, touring a few country houses, having tea, or riding horseback down the lanes in the rain. But what if I went a step further? What if I fully immersed myself in the experience via a Jane Austen-inspired holiday resort?
That is precisely the plot of Shannon Hale's Austenland, which I read years ago, and her more recent Midnight in Austenland, that came out on precisely the same day as my own Austentatious. It is likely that many of you have read at least one of the Austenlands–and perhaps even imagined yourself making reservations at Pembrook Park, where guests behave as if it is the Regency, and actors and actresses facilitate that pseudo-reality. It is like a summer camp for grown-ups. Guests dine and flirt, take strolls through the garden, and perhaps, indulge in a temporary romance. (Or, in the case of Midnight in Austenland, assist in solving a murder…) Pembrook Park offers the magical opportunity of taking fan fiction one dramatic step further.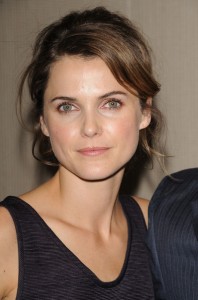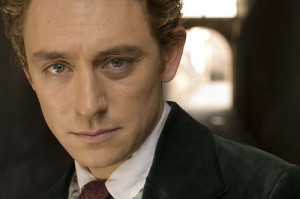 And it's soon going to be a movie!! Stephenie Meyer, of Twilight fame, is producing Austenland, and filming is (I believe) already complete. Keri Russell stars as the heroine Jane Hayes, the slightly-obsessed Janeite who has come to stay at Pembrook Park, and JJ Feild plays the resident Mr. Darcy. What do you think? Does he measure up to Jane's (Hayes') Colin Firth obsession (not to mention your own)?
Pembrook Park is acted out at West Wycombe Manor–quite the stunning setting! Can't you just imagine the approach to that lovely, sunny yellow amid all that gorgeous parkland? And perhaps Darcy emerging from that pond… Sigh.
So do tell! Are you the sort to go on a Jane Austen Full-Immersion Vacation? Would you giddily participate, creating a character and backstory for yourself, and indulging in everything that Pembrook Park had to offer…flirtation included? As busy and frazzled as this summer has been, I would relish the opportunity to indulge myself in simpler pastimes: late breakfasts, ample time for reading, gossiping over afternoon tea, cards in the evening… Sigh. It would likely take a couple of days for me to settle in though. You would most likely find me shyly lurking in corners or walking alone about the grounds, attempting to prompt myself into further participation. I think if I indulged in an imaginary flirtation with a Mr. Darcy character, I just might dissolve into a fit of giggles. Then where would my reputation be??
Imdb.com indicates that Austenland will be out sometime in 2012, but that might be optimistic. Either way, I am looking forward to immersing myself, and until then, I will simply have to make due with the Olympics. Go USA!!
London image via; West Wycombe Manor image via.
Alyssa Goodnight
Alyssa Goodnight currently lives between Houston and Galveston with her husband, two sons, and their adventure dogs, Indiana Jones and Short Round. She does her writing with an ice-cold can of Dr Pepper and her reading with cake whenever possible (now gluten-free!) Her writing has been described as clever, quirky, captivating and delightful. She is the author of Austentatious, Austensibly Ordinary, and Unladylike Pursuits.