My father-in-law has been ill since last November. He had a horrible cough and trouble breathing while we were visiting Disney World, and we all assumed it was simply a bad cold, or the beginnings of the flu. (And we all hoped we didn't catch it.) A month later, the cough had gone, but the respiratory issues remained, and his wife finally convinced him to go see a doctor. His health is not the best, generally speaking, but after extensive tests, they couldn't really find anything wrong with him that might be causing these particular symptoms. Months have passed and he's been on various medications, and at the recommedation of my husband, antihistamines, which seemed to help. It was only recently that they were finally able to diagnose him. Eight months later. He has portal hypertension, which means that the bloodflow to his liver is congested, resulting in "dirty blood" being filtered back through his body, and causing respiratory issues, forgetfulness, depression, and all around malais.
While I have been getting regular updates of his doctor visits, treatments, progress, and general well-being, I have remained–through eight months–confident that the doctors would find the reason for his ill-health and present him with a cure. Well, there is no cure, per se, the doctors are putting him on experimental drugs in hopes of improving the situation as well as possible. We are all optimistic.
This entire situation got me thinking about the reality of falling ill during Jane Austen's lifetime. Mr. Woodhouse likely had the right of it in worrying over every threat to his health. Jane's ride to Netherfield in the rain resulted in her being fever-stricken and bedridden for several days (much to her mother's delight). Most of us would have probably headed off to work with the very same symptoms after slugging back a dose of cold medicine. In those days, the village doctor would attend, should a patient fall victim to a more serious malady, but I admit, I wouldn't be particularly enthused about calling him, knowing that he'd very likely decide to haul out the leeches. Ugh! How dreadful it must have been to get sick, and then progressively sicker, knowing that recovery wasn't likely, and there was nothing that could be done. I would imagine one would quickly lose hope.
Of course I am aware that even in these ultra-modern times, we have diseases with no known cures, and life is certainly precarious, but I can't imagine having to rely simply on hope. With so many doctors and research facilities working on alternative cures, we are lucky to have experimental drugs–and even risky procedures–as options. These were not nearly as common in Jane Austen's time.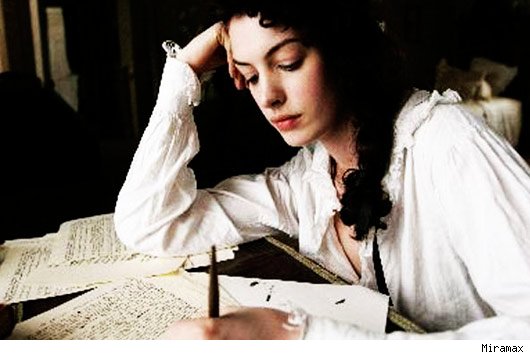 Jane Austen herself succumbed to a debilitating illness, and I am glad to know that she wrote even in sickness, for certainly that is what made her happiest. Nearly two hundred years after her death, the cause of it is still a topic of much discussion. Was it Addison's Disease, lymphoma, or bovine tuberculosis? We will probably never know. We only know that she died much too soon, leaving us a precious few novels that have delighted and inspired us. Her sister Cassandra was with her when she died, and later wrote:
'She was the sun of my life, the gilder of every pleasure, the soother of every sorrow. I had not a thought concealed from her, and it is as if I had lost a part of myself.'
What a lovely person she must have been. I'm glad to have known her, just a little, through her wonderful novels.
(I wouldn't quite describe my father-in-law in the same way, but I'm delighted he came into my life as well.)
And, to continue with the trend that Sharon started yesterday, I would like to reveal my new cover as well!  AUSTENSIBLY ORDINARY will be released January 29, 2013.  That is precisely two hundred years and one day after Pride and Prejudice was published!  Very exciting!
Steamy, funky, and thoroughly modern, Austin, Texas isn't much like the gardened country estates of Jane Austen's work. But there might be a few similarities in its inhabitants…
Cate Kendall is no stranger to daydreams of brooding men and fancy parties—after all, she teaches one of her beloved Jane Austen novels in her English classes every year. But as for romance or adventure in her own life, the highlight of most weeks is Scrabble with her cute coworker, Ethan, and he draws the line at witty banter.  But Cate is ready for a change. When she finds a mysterious journal that seems to have a link to the soul of the great Jane Austen herself, she knows it's her chance. And she grabs on with both hands…
Before she knows it, Cate has invented an alter ego with an attitude, attended some seriously chic soirees, and gotten tangled up with a delicious mystery man. And she's uncovered enough unexpected secrets about Ethan that her Scrabble partner has taken to brooding looks and unfathomable silences. It's a positively Austenite predicament, and Cate is sure she'll land in hot water and heartbreak—but maybe not with Jane herself to guide her…
Do tell me what you think of the cover.  Do you think it pairs well with AUSTENTATIOUS?
Alyssa Goodnight
Alyssa Goodnight currently lives between Houston and Galveston with her husband, two sons, and their adventure dogs, Indiana Jones and Short Round. She does her writing with an ice-cold can of Dr Pepper and her reading with cake whenever possible (now gluten-free!) Her writing has been described as clever, quirky, captivating and delightful. She is the author of Austentatious, Austensibly Ordinary, and Unladylike Pursuits.