I am current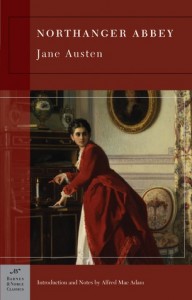 ly poring over the page proofs (the final version of the novel before printing) of Austensibly Ordinary, my January 2013 release, hoping (praying) I catch every little inaccuracy that might remain. I am also re-reading Northanger Abbey, an intention which has been a long time in coming. I started it last weekend, and it was, at least partially, because I was in the mood for Fall, and a Gothic novel (or even a spoof of a Gothic novel) feels like Fall to me. Coincidentally, Austensibly Ordinary is set in the fall, so reading it again has gotten me even more eager for the changing of the seasons. I'm having to force myself to resist the pumpkins at the grocery store and keep from pulling out my colorful Fall decor. Maybe after I get my page proofs turned in…
If memory serves, Northanger Abbey was the last among all six Austen novels that I read, and as is pretty typical for me, I remember enjoying it, but I don't particularly remember *it*. Perhaps I was distracted (or pregnant!) or simply oblivious, because I do not remember thinking while first reading it that it was Jane Austen's playful attempt at a Gothic novel. But it is obvious to me now.
I love all the tongue-in-cheek commentary on Catherine looking and behaving as a heroine (or not!) , and it's funny, because the protagonist of Austensibly Ordinary, Cate Kendall, has, at the opening of the book, decided that she's looking to be a heroine as well. Although she's not quite certain what sort she'll be…
Catherine shortly meets Henry Tilney, and he teases her about what she now must write in her journal after their quirky, strange introduction:
"I see what you think of me," said he gravely–"I shall make but a poor figure in your journal to-morrow."
"Yes, I know exactly what you will say: Friday, went to the Lower Rooms; wore my sprigged muslin robe with blue trimmings–plain black shoes–appeared to much advantage; but was strangely harassed by a queer, half-witted man, who would make me dance with him, and distressed me by his nonsense."
…
"How are the civilities and compliments of every day to be related as they ought to be, unless noted down every evening in a journal?"
How indeed?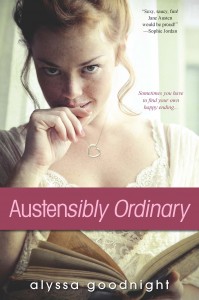 If you've read Austentatious, you know about the magical journal, channeling the spirit of Jane Austen, that popped up in Austin, Texas. Well, it makes an encore appearance in Austensibly Ordinary. Consequently, the journaling is important, not only for the reasons Mr. Tilney provides, but because it is the vegetable soup, so to speak, that facilitates the messages and advice from Ms. Austen. When Cate can't pinpoint an explanation for the journal's magical properties, she turns to her sexy coworker/Sunday Scrabble partner before realizing that he'll want to view all the evidence: he'll want to read her personal, private journal entries! And that is out of the question, most especially because she's writing about him! Just as I imagine Catherine would have been writing about Henry, if indeed she kept a journal.
Austensibly Ordinary is, in fact, very loosely based on Emma, but now I am a little excited to discover other similarities between its characters and storyline and that of Northanger Abbey. Maybe while enjoying a warm drink in the cool breeze as Fall gusts its way into the Texas Gulf Coast. Or maybe even a caramel apple…
I've never seen a screen adaptation of Northanger Abbey, but I will be on the hunt for one shortly. I wonder if I have many options… Does anyone recommend any version specifically (if there is more than one…)
Do tell: do you keep a journal?  And what is your favorite Fall treat?
Alyssa Goodnight
Alyssa Goodnight currently lives between Houston and Galveston with her husband, two sons, and their adventure dogs, Indiana Jones and Short Round. She does her writing with an ice-cold can of Dr Pepper and her reading with cake whenever possible (now gluten-free!) Her writing has been described as clever, quirky, captivating and delightful. She is the author of Austentatious, Austensibly Ordinary, and Unladylike Pursuits.