Published
April 17, 2013
|
By
Regina Jeffers
Welcome to the tenth installment of The Bennet Brother, the interactive group writing project from Austen Authors! At the end of this segment, you will have an opportunity to vote on what happens next. There are also extra details on Twitter, where this story has taken on a life of its own. Mr Edward Bennet (@edwbennet) already has a notable presence and regularly interacts with readers, including this interview with Miss Leatherberry on Leatherbound Reviews:
Interview with Mr Edward Bennet
Full details on Pride & Prejudice Reader's Choice can be read by clicking to the page via the menu above or the icon to the left.
Voting for today's installment will end at 6 A.M. tomorrow, Thursday, April 18. Next week, the story continues with a new addition by Shannon Winslow. The previous nine installments can be read in order on The Writers Block.
And, now, below find Scene #10 by Regina Jeffers…
Georgiana chastised herself for tolerating George Wickham's cavalier attitude once again. "My brother is not taking advantage of Miss Elizabeth. He admires her greatly," Georgiana protested. If anything, Georgiana suspected her brother was more than half in love with Miss Elizabeth. "Fitzwilliam invited Miss Elizabeth and her sister here…"
"Because he thought you required friends." Her companion snapped the twig in his hand. "Has it ever occurred to you, Georgiana, that had your brother been less arrogant and had not always assumed he knew what was the best course of action for everyone and every situation, you would not be so lacking in courage and confidence as you are now?"
She cringed inwardly, but Georgiana managed to argue, "Lacking in courage and confidence? You say as such when I have come to save your life?" Incensed at the man's ingratitude, Georgiana added, "I should not have bothered." She started for the rear of cottage where her horse awaited.
Mr Wickham caught her arm. He motioned her silence by holding up his hand. Cocking his head, he cautioned, "Someone is coming."
She turned toward the sound of an approaching wagon. Georgiana's eyes widened with the scene: Mr Bennet bounced awkwardly upon the wooden seat of an inelegant vegetable cart, along side of Ole Taylor, once one of her brother's former grooms. Fitzwilliam had meant to pension off the man whose spell of heart troubles had left the groom incapable of earning a proper living. When Mr Taylor had refused his mater's generosity, Darcy had permitted the man his honor. Ole Taylor's left hand no longer worked as it should. It was the reason Georgiana had refused the ex-groom's assistance on this day. Unfortunately, Mr Bennet had not been so inclined.
Mr Wickham said intimately, "It appears you may still need to save me yet, my girl." He gave her arm a bit of a shake. "You must stall them, Georgie. Mine is a hanging offense."
Georgiana's eyes narrowed in displeasure. "I would have you well, but I cannot turn my head to your theft. Return the horse, and I will speak to Fitzwilliam in your behalf," she pleaded. Continue reading →
Posted in
Austen Authors
,
Excerpts
,
Humor
,
JA Characters
,
Jane Austen
,
P&P: Reader's Choice
|
50 Comments
Published
April 14, 2013
|
By
Sharon Lathan
Today at Austen Authors we are welcoming authors Kathleen Anderson and Susan Jones. Both lovely ladies are professors of English Literature at Palm Beach Atlantic University in Florida, and have written numerous scholarly articles, including several on Jane Austen for the JASNA publication Persuasions: A Jane Austen Journal. Their collaboration on Jane Austen's Guide to Thrift tackles the fiscal woes that we face today and equips modern women with new (and old) ways to live a life of elegant economy. I think we can all learn more about that!
Here is the blurb from Amazon:
Embrace your inner Jane and find a new way of life in thrift!

Jane Austen knew that wealth and grandeur had little to do with happiness, and that fashionable new dresses and reticules to impress Mr. Darcy simply were not the path to fulfillment—especially when one accrues debt in the process. It's as true today as it was then . . .

Whether you have a fortune or not, you're well advised to make the most of your income—and save for your future. Now, using the timeless wisdom and example of Jane Austen's memorable heroines, this book offers everything the modern lady needs to know about: Clever investing, keeping up appearances on a budget, giving and receiving graciously, finding treasures at flea markets and church rummage sales, planning a party that only looks extravagant, and more!

Jane Austen's Guide to Thrift shows how to make your circumstances significantly less reduced, and how to live a life of elegent economy and joyful generosity—whether you've as much as Emma Woodhouse or as little as Miss Bates.
Kathleen and Susan are here to share a few insights from their book. Be sure to ask questions of them! They will be popping in to interact. Plus, comments will enter your name into the drawing for one free copy of Jane Austen's Guide to Thrift. Very cool! The deadline for comments to win is Saturday, April 20 at midnight. *US & Canada only, sorry. Links for additional information and purchasing are after the guest post. So take it away ladies!
 Spend a Day Like Jane Austen
A guest blog by Drs. Kathleen Anderson and Susan Jones
Authors of Jane Austen's Guide to Thrift
(Berkley Books, 2013) Continue reading →
Posted in
Giveaways/Contests
,
Guest Author
,
Jane Austen
,
Regency
|
51 Comments
Published
April 9, 2013
|
By
Jack Caldwell
Mr. Darcy's P&P POV (the abridged version)

Greetings, folks. Jack Caldwell here. This is Part 9 of my little work-in-process. For Part 1, go here, Part 2, here, Part 3 here, Part 4 here, Part 5 here, Part 6 here, Part 7 here, Part 8 here.
The completed story will be eventually posted in its entirety at Austen Authors' The Writers Block and at my own Ramblings of a Cajun in Exile. But you don't want to wait until then, do you?
Remember, comments are required.
~~~
PART 9
Chapter 34 –
What the hell happened?
I remember walking into the parsonage's modest parlor. There was Elizabeth, pale but sitting upright. She was not at death's door. I recall the enormous relief I felt along with annoyance that I had walked out of Aunt Catherine's tea for no purpose.
Purpose. I remember thinking of my purpose. Suddenly, all became clear. I loved her. I loved Elizabeth. Pride, status, expectations—they were as nothing to me. I must surrender to her. I must have her.
"In vain have I struggled! It will not do. My feelings will not be repressed. You must allow me to tell you how ardently I admire and love you." Yes, I said that. I meant that.
She gave me such an unreadable expression. I thought her overwhelmed by my declaration. My thoughts seemed to tumble out of my mouth. She deserved—she needed to know of my struggles. To comprehend what I had thrown away and rejected for her sake. I had to have her! And then…
Rejection. She rejected me. She did not expect my declaration. She was surprised—shocked—disgusted. Disgusted with me.
I remember feeling stunned then angry. I do not know whether I had ever been that angry before. Not even with Wickham had I been that angry. I offered her my heart, and she spit on it!
She talked of Bingley and Miss Bennet. How did she come to know of that? And why was she so angry? Her sister did not love my friend! There was nothing in her actions that showed anything of it! Continue reading →
Posted in
Austen Authors
,
Humor
,
JA Characters
,
Jane Austen
,
Regency
,
White Soup Press
,
Writing & Publishing
|
31 Comments
Published
April 8, 2013
|
By
Mary Simonsen
Pop the champagne! No, wait. Change that to Chianti!
Welcome to the launch of my latest Pride and Prejudice re-imagining, When They Fall in Love, published in collaboration with White Soup Press. Here is a brief description of the story:
Spring of 1814 – Fitzwilliam Darcy proposes to Elizabeth Bennet at the Hunsford Parsonage, but his offer of marriage is rejected. 
Spring of 1821 – A recently widowed Fitzwilliam Darcy has taken up residence with his six-year-old daughter, Alexandra, at a villa in the hills above Florence and invites Charles and Jane Bingley and their daughter to come for a visit. Included in the invitation is Elizabeth Bennet, who has taken on the responsibility of governess for her niece, Cassandra Bingley. 
In the intervening years, Elizabeth's opinion of the Master of Pemberley has altered greatly, but has Darcy's opinion of Elizabeth changed? After all, he married another and fathered a child. Will they be able to put their troubled history behind them?  When They Fall in Love is set against the background of the greatest city of the Renaissance, a perfect place to start over.
To celebrate my unveiling, I asked Miss Jane Austen if she would like to interview me, and the gracious lady, descending from her heavenly perch, agreed.
Jane: First, congratulations on your release of When They Fall in Love. I am sure you are as excited as I was when I first published Sense and Sensibility in 1811.
Mary: I always get butterflies in my stomach when I click the "publish" button, and the book goes live.
Jane: I have no idea what that means, but that is neither here nor there. From the list of your published novels, it is obvious that your particular favorite is Pride and Prejudice. Continue reading →
Published
April 7, 2013
|
By
Sharon Lathan
I am SO excited to welcome our guests today and share this absolutely delightful book with all of you! Pamela Jane and Deborah Guyol have written and presented a truly delightful twist on Pride and Prejudice, and as far as I am aware, a completely unique take. Fortunately I didn't miss out on the chance to make these discoveries! Months ago Pamela wrote to Abigail and me via the AuAu admin email address, telling us about her then-upcoming book. Now here is where I confess that I am not a huge cat-person, and that cute pictures of animals with funny captions are only entertaining in small portions. Therefore, I wasn't too thrilled with the vision of a whole book with both!
Then Pamela's publisher kindly sent me an advanced reader copy. Wow! As soon as I read the opening line, "Netherfield Park has been marked at last!" I was smiling. The second sentence – The news caused much romping at the Bennet household for, as every cat knows, a handsome young tom in possession of his own territory must be in want of a mate. – had me laughing…. And I never stopped. I loved every page, and was sincerely impressed by Pamela and Deborah's respectful devotion to Jane Austen's novel.
We are very happy to welcome Pamela and Deborah to Austen Authors. At the end there will be information on the giveaway being offered, and link to purchase and learn more. Now, take it away, ladies!
Follies and Nonsense… Do Divert Me
Authors Pamela Jane and Deborah Guyol discuss their new book,
Pride and Prejudice and Kitties:
A Cat-Lover's Romp Through Jane Austen's Classic
(Skyhorse Publishing, April 2013)
In Pride and Prejudice and Kitties, by Jane Austen, Pamela Jane, (children's book author) and Deborah Guyol (lawyer, writer, photographer), we acknowledge the universal truth that Jane Austen's classic novel works perfectly with cats. Continue reading →
Published
April 4, 2013
|
By
Syrie James
Since this week began with April Fool's Day, I thought it'd be fun to talk about the fools in Jane Austen's novels. I'll also include a scene from my novel The Missing Manuscript of Jane Austen, with my own example of an Austen fool, which I hope will make you laugh!
Jane Austen was a master at creating foolish characters, not only to provide the comic relief in her novels, but also to facilitate the plot. In life, a person might be foolish some of the time, but in comedy and in literature, the fool is always a fool. The literary fool usually has one essential flaw, and their life appears to be an endless repetition of that particular attitude or trait. Jane Austen's literary fools follow this rule; foolishness is the very essence of their being.
Why do we laugh at literary fools? We delight in them because we recognize their flaws and we feel a sense of superiority over them. Yet an inventive author like Jane Austen gives the reader this pleasure with many different variations. There are fools of a sort in every one of her novels, but every one of them is different in some way.
Here are four of my favorite Austen fools:
Mrs. Bennet (Pride and Prejudice): Although we may understand the social necessity of getting one's daughters married off in the Regency era, Mrs. Bennet's total lack of concern for who her daughters marry, and her inability to judge a good man from a bad one, is hilarious–as are her continual lapses of social grace. Her character perfectly satirizes the effects of unbecoming behavior and lower breeding. Continue reading →
Published
April 3, 2013
|
By
Jane Odiwe

Welcome to the eighth installment of The Bennet Brother, the interactive group writing project from Austen Authors! At the end of this segment, you'll have a chance to vote on what happens next. There are also extra details on Twitter, where this story has taken on a life of its own. Mr. Edward Bennet (@edwbennet) already has a notable presence and regularly interacts with readers, including this interview with Miss Leatherberry on Leatherbound Reviews:
Interview with Mr. Edward Bennet
Full details on Pride & Prejudice Reader's Choice can be read by clicking to the page via the menu above or the icon to the left.
Voting for today's installment will end at 6am tomorrow – Thursday, April 4. Next week, the story continues with a new addition by Nina Benneton.  The previous seven installments can be read in order on The Writers Block.
And, now, without any further ado, here is Scene #8 by Jane Odiwe:
The answer to the question of what Wickham was after was not really a difficult one as far as Darcy was concerned. Wickham's actions were almost always motivated by greed, and his insatiable quest for money at the expense of everyone else, with little effort or endeavour on his part. Darcy knew too well from his dealings with his former childhood friend that these facts must certainly be at the root of this latest scheme.
'Mr Darcy, you know him better than I,' said Edward. 'Where is he most likely to go and seek refuge?'
Darcy put down his glass of water on the Pembroke table at his side, pulling himself up in an attempt to make himself more comfortable on the sopha. 'I daresay he is London bound where, no doubt, he will find anonymity, haunt the usual pleasure-houses and, on route, dispose of my horse for a tidy sum, Mr Bennet. In order to realize such a task without raising eyebrows he will have to sell in a large enough place, but I think if we act now it may not be too late.'
'Charlemagne is a wonderful steed, Darcy. How far do you think he will be by now?'
'If I know Wickham, he will not be taking the predicted route and he may not be as far as we think. He will be expecting me to send out a party to follow him in the direction of Nottingham and Northampton. But, it may be that he takes a detour and rids himself of Charlemagne in another city. Birmingham would do it. He could lose himself just as easily there for a day or two and there is nowhere better in this country to re-arm. The gun-makers are second to none.' Continue reading →
Published
April 2, 2013
|
By
Sharon Lathan
Finally! The Passions of Dr. Darcy release day is here! I have been waiting for George Darcy's story to be public for ages!
I suppose every anxious author feels similar while counting the weeks and days until their latest novel is revealed. In my case, however, I have dreamed of delving seriously into George's past since late-2006 when I realized how utterly amazing his life was. In my heart and in my mind, this desire was constantly niggling, no matter what else I was writing. Enough tidbits were tossed into the Darcy Saga to satisfy the itch temporarily, yet inevitably the hints of his adventures and relationships only increased the yearning to know more.
By January of 2011 I could no longer squelch the curiosity. The insistent voice inside my head – a resonant male voice with shades of humor and bossiness – refused to remain silent. The fuller story of how George's epic tale went from concept to published novel is told on my blog–
The Story Behind The Passions of Dr. Darcy
Synopsis~
George Darcy is the second son of a wealthy landowner in Georgian Era England. At 22 he is one of the youngest medical doctorate graduates of Cambridge University and admitted licentiate from the London Royal College of Physicians, and thus considered a brilliant, rising star in England's field of medicine. Yet Dr. Darcy refuses the easy, comfortable pathway and enlists as a physician with the British East India Company, embarking on a personal quest to broaden his education and practice his craft without the restraints imposed by British society.
The Passions of Dr. Darcy spans thirty-four years in the life of this incredible, eccentric man. Using vivid descriptions of the culture and atmosphere, the story traces his early steps as a new doctor in a strange land on to his eventual return to England and his childhood home decades later. This is a story of India and the people as well as of the diseases and medical care available. Primarily, however, this is the story of one man who strived to change the face of medicine while yearning to fill the void left within his soul upon the death of his identical twin when they were 12. His search for family, enduring love, and lost companionship is a quest not wholly realized until returning to England and Pemberley. There a new generation of family and friends will heal the physician, and to his greatest surprise, the true love of his life awaits.
Those who are fans of my novels are as anxious for this novel as I am. They know Dr. George Darcy and understand completely why his journey needed to be recounted.
Those of you not familiar with my sequel series to Pride and Prejudice may be wondering how a novel about a non-Austen character that is set largely in India can even be considered an Austenesque novel.
It is a fair question. Continue reading →
Published
April 1, 2013
|
By
Colette Saucier
How the Queen's English Has Evolved over 200 Years
This is part one of my two-part series on the evolution of communication.
This month, two lucky visitors to Austen Authors will each win a copy of Pulse and Prejudice; and although these prizes do not have much monetary value, a price cannot be placed on the heartfelt devotion expended on this project of some twenty-four months. Not that I would ever refuse an excuse to go to Britain! Indeed, I even elected to travel to The Netherlands and Belgium to write the second draft with the idea that I would incorporate the Battle of Waterloo and the Treaty of Ghent in the sequel. (Alas, the site of Waterloo is a nondescript field – reminiscent of my visit to Valley Forge, which resulted in dozens of photographs of grass with the occasional cannon thrown in for good measure.)
I could expend an entire blogpost on the research I undertook on the Regency era, using primary sources – from periodicals to weather reports – and secondary sources, as well as vampire lore and literature, to ensure historical accuracy (I discuss much of this in a recent Authors After Dark Spotlight Interview), and how I came to possess a 200 year-old edition of Sothey's
The Life of Nelson just because I thought it might be a book Mr. Darcy would read (OK, yes, I can be a bit obsessive). Today, however, I address the changes in literary conventions since the publication of Pride and Prejudice.
In approaching Pulse and Prejudice as an authentic (albeit paranormal) adaptation of Jane Austen's classic rather than a variation or modernization, I committed myself to remaining true to her language and writing style. Cognizant of the changes in language and literary conventions over the last two centuries, and diligent in my efforts to avoid any historical or linguistic anachronisms, I did not use a single word in Pulse and Prejudice that was not in use in 1813, which meant the loss of many good words! I had used the word "befuddled"
until I found out it wasn't in use until the 1830s.  (I suppose no one was confused before then.) And don't get me started on "credenza"! Fortunately, one of the editors assigned to the project, Julie Reilly, is not only a fellow Austenite but also British. She understood my commitment to Regency language and double-checked not only for anachronisms but also Americanisms. For example, what we call "French doors" are called "French windows" in England even today; and across the pond, they use "draught" for "draft," and not just at the pub.
Unlike today's authors, Miss Austen did not have Strunk and White or The Chicago Manual of Style on hand and instead maintained the punctuation usage of the 18th and early 19th centuries. This would account for the 1500+ semicolons found in Pride and Prejudice, most typically in lieu of periods, as well as her liberal use of commas. Even that famous first line – It is a truth universally acknowledged, that a single man in possession of a good fortune, must be in want of a wife. – would not have any commas if written today. When first submitting my own manuscript to the publisher, I had to present my argument for keeping as many semicolons as possible (a misunderstood and under-used punctuation mark, in my opinion).
Modified rules of punctuation only scratch the surface of changes in writing standards in the last two hundred years. As any aspiring author knows, today a writer must "show" rather than "tell," meaning that full descriptions must be used in place of adverbs and adjectives. Stephen King sums up the current attitude: "The road to hell is paved with adverbs." Yet Miss Austen utilizes adverbs "liberally." In his book On Writing, King modifies his position somewhat: Continue reading →
Published
March 19, 2013
|
By
Maria Grace
The newest White Soup Press release is available today as an ebook on Amazon.com and also at Barnes and Noble. The paper back version will be available in about two weeks.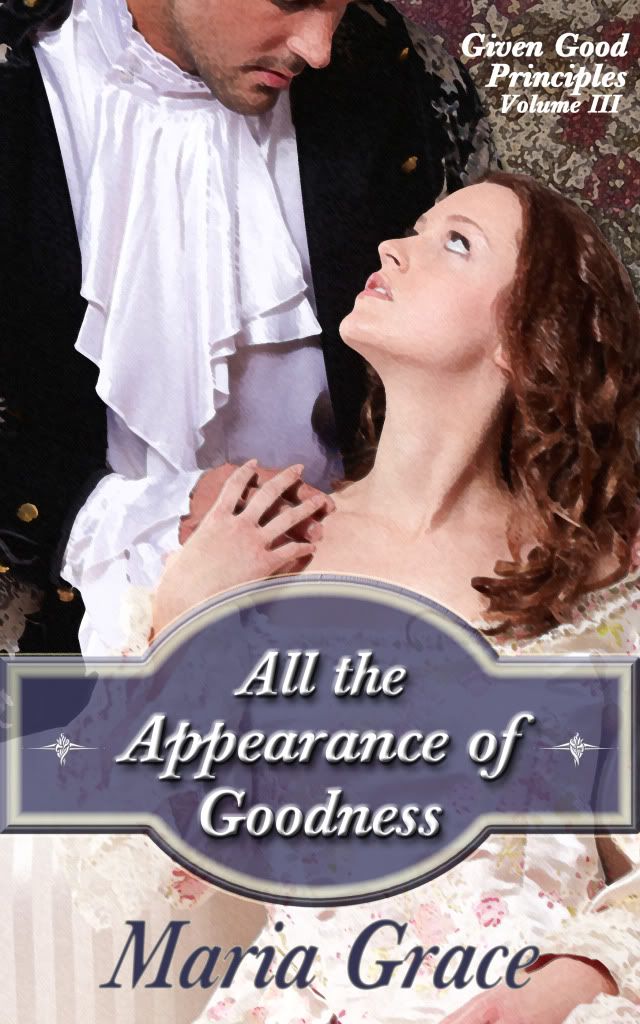 I am giving away two autographed copies of the book to those who leave comments below. (E-books for international winners.) The giveaway will end on March 31, 2013, so leave loads of comments and do not forget the Rafflecopter option for additional opportunities to win. In addition, yesterday Regina Jeffers launched her latest release, THE MYSTERIOUS DEATH OF MR. DARCY. Regina and I have decided to double your pleasure and double the fun. Those who comment below are also in the running to win a copy of Regina's book, and those who commented on her post yesterday will be eligible to win my title.
All the Appearance of Goodness is the continuation of the Given Good Principles series.
What is a young woman to do? One handsome young man has all the goodness, while the other the appearance of it.  How is she to separate the gentleman from the cad?
When Darcy joins his friend, Bingley on a trip to Meryton, the last thing on his mind is finding a wife. Meeting Elizabeth Bennet changes all that, but a rival for his affections appears from a most unlikely quarter. He must overcome his naturally reticent disposition if he is to have a chance of winning her favor.
Elizabeth's thoughts turn to love and marriage after her sister, Mary's, engagement. In a few short weeks she goes from knowing no eligible young men, to being courted by two. Both are handsome gentleman, but one conceals secrets and the other conceals his regard. Will she determine which is which before she commits to the wrong one?
Please enjoy a little excerpt to whet your appetite.
 From Chapter 9
An hour later, composed and momentarily calm, Louisa Bingley paced the length of her dressing room. By all rights, the carpet should be as threadbare as her own soul by now, but the makers had woven it of sturdier stuff that she.
Could she stand up to Caroline as Mr. Bradley suggested? The idea was fantastical, unheard of in her family, so close to fiction it tried her sensibilities. She whirled about for another trip past the dressing table.
What choice had she? Caroline had already announced her intentions to join Louisa on her wedding trip and live with her and Hurst afterwards. She loved Hurst too well to subject him to the life she and Charles endured. If she did not do something now, her marriage would be ruined before it began. Continue reading →
*Giveaways
Enter our monthly contest using the Rafflecopter form on the
Giveaway Page.
All rules and prizes are listed there! Click the image or link provided.
Purchasing
Austen Authors Amazon Marketplace
Amazon.com