Published
April 17, 2013
|
By
Regina Jeffers
Welcome to the tenth installment of The Bennet Brother, the interactive group writing project from Austen Authors! At the end of this segment, you will have an opportunity to vote on what happens next. There are also extra details on Twitter, where this story has taken on a life of its own. Mr Edward Bennet (@edwbennet) already has a notable presence and regularly interacts with readers, including this interview with Miss Leatherberry on Leatherbound Reviews:
Interview with Mr Edward Bennet
Full details on Pride & Prejudice Reader's Choice can be read by clicking to the page via the menu above or the icon to the left.
Voting for today's installment will end at 6 A.M. tomorrow, Thursday, April 18. Next week, the story continues with a new addition by Shannon Winslow. The previous nine installments can be read in order on The Writers Block.
And, now, below find Scene #10 by Regina Jeffers…
Georgiana chastised herself for tolerating George Wickham's cavalier attitude once again. "My brother is not taking advantage of Miss Elizabeth. He admires her greatly," Georgiana protested. If anything, Georgiana suspected her brother was more than half in love with Miss Elizabeth. "Fitzwilliam invited Miss Elizabeth and her sister here…"
"Because he thought you required friends." Her companion snapped the twig in his hand. "Has it ever occurred to you, Georgiana, that had your brother been less arrogant and had not always assumed he knew what was the best course of action for everyone and every situation, you would not be so lacking in courage and confidence as you are now?"
She cringed inwardly, but Georgiana managed to argue, "Lacking in courage and confidence? You say as such when I have come to save your life?" Incensed at the man's ingratitude, Georgiana added, "I should not have bothered." She started for the rear of cottage where her horse awaited.
Mr Wickham caught her arm. He motioned her silence by holding up his hand. Cocking his head, he cautioned, "Someone is coming."
She turned toward the sound of an approaching wagon. Georgiana's eyes widened with the scene: Mr Bennet bounced awkwardly upon the wooden seat of an inelegant vegetable cart, along side of Ole Taylor, once one of her brother's former grooms. Fitzwilliam had meant to pension off the man whose spell of heart troubles had left the groom incapable of earning a proper living. When Mr Taylor had refused his mater's generosity, Darcy had permitted the man his honor. Ole Taylor's left hand no longer worked as it should. It was the reason Georgiana had refused the ex-groom's assistance on this day. Unfortunately, Mr Bennet had not been so inclined.
Mr Wickham said intimately, "It appears you may still need to save me yet, my girl." He gave her arm a bit of a shake. "You must stall them, Georgie. Mine is a hanging offense."
Georgiana's eyes narrowed in displeasure. "I would have you well, but I cannot turn my head to your theft. Return the horse, and I will speak to Fitzwilliam in your behalf," she pleaded. Continue reading →
Posted in
Austen Authors
,
Excerpts
,
Humor
,
JA Characters
,
Jane Austen
,
P&P: Reader's Choice
|
50 Comments
Published
April 2, 2013
|
By
Sharon Lathan
Finally! The Passions of Dr. Darcy release day is here! I have been waiting for George Darcy's story to be public for ages!
I suppose every anxious author feels similar while counting the weeks and days until their latest novel is revealed. In my case, however, I have dreamed of delving seriously into George's past since late-2006 when I realized how utterly amazing his life was. In my heart and in my mind, this desire was constantly niggling, no matter what else I was writing. Enough tidbits were tossed into the Darcy Saga to satisfy the itch temporarily, yet inevitably the hints of his adventures and relationships only increased the yearning to know more.
By January of 2011 I could no longer squelch the curiosity. The insistent voice inside my head – a resonant male voice with shades of humor and bossiness – refused to remain silent. The fuller story of how George's epic tale went from concept to published novel is told on my blog–
The Story Behind The Passions of Dr. Darcy
Synopsis~
George Darcy is the second son of a wealthy landowner in Georgian Era England. At 22 he is one of the youngest medical doctorate graduates of Cambridge University and admitted licentiate from the London Royal College of Physicians, and thus considered a brilliant, rising star in England's field of medicine. Yet Dr. Darcy refuses the easy, comfortable pathway and enlists as a physician with the British East India Company, embarking on a personal quest to broaden his education and practice his craft without the restraints imposed by British society.
The Passions of Dr. Darcy spans thirty-four years in the life of this incredible, eccentric man. Using vivid descriptions of the culture and atmosphere, the story traces his early steps as a new doctor in a strange land on to his eventual return to England and his childhood home decades later. This is a story of India and the people as well as of the diseases and medical care available. Primarily, however, this is the story of one man who strived to change the face of medicine while yearning to fill the void left within his soul upon the death of his identical twin when they were 12. His search for family, enduring love, and lost companionship is a quest not wholly realized until returning to England and Pemberley. There a new generation of family and friends will heal the physician, and to his greatest surprise, the true love of his life awaits.
Those who are fans of my novels are as anxious for this novel as I am. They know Dr. George Darcy and understand completely why his journey needed to be recounted.
Those of you not familiar with my sequel series to Pride and Prejudice may be wondering how a novel about a non-Austen character that is set largely in India can even be considered an Austenesque novel.
It is a fair question. Continue reading →
Published
March 26, 2013
|
By
Shannon Winslow
Would you care to take a long ramble round the expansive park at Rosings? Or how about a little three-mile scamper across fields and over stiles to Netherfield? Or must I call you a carriage? We all know how Lizzie Bennet would answer these questions.
"I do not wish to avoid the walk. The distance is nothing when one has a motive; only three miles. I shall be back by dinner." (Elizabeth, Pride and Prejudice, chapter 7)
Jane Austen often used a person's activity level as a clue to character when telling her stories. She made her favorites lively and energetic. This is best personified in Elizabeth Bennet, but the adolescent Catherine Morland was quite athletic as well (horseback riding, rolling down hills, playing baseball and cricket), and the two younger Dashwood sisters were thrilled when rain gave them the excuse to race down hill for home.
Less admirable Jane Austen characters often demonstrate more slovenly habits (think Mr. Hurst or Lady Bertram). And even though Elizabeth loved her father dearly, his indolent habit is one reason that neither she nor Austen fully respected him.
The fact that Austen expects her heroines, as well as her heroes, to be physically active, puts her ahead of her time, since fine ladies of her day were not encouraged to much exert themselves. Dr. Fordyce, in his famous Sermons to Young Women, frowned on vigorous exercise for females, advising that it was "manly" and "ungraceful." It would, therefore, have been deemed counterproductive to snaring a husband - the primary goal for every young lady at that time.
Not surprisingly, then, Elizabeth's walk to Netherfield dismayed her mother and positively scandalized Mr. Bingley's sisters. Continue reading →
Published
March 19, 2013
|
By
Maria Grace
The newest White Soup Press release is available today as an ebook on Amazon.com and also at Barnes and Noble. The paper back version will be available in about two weeks.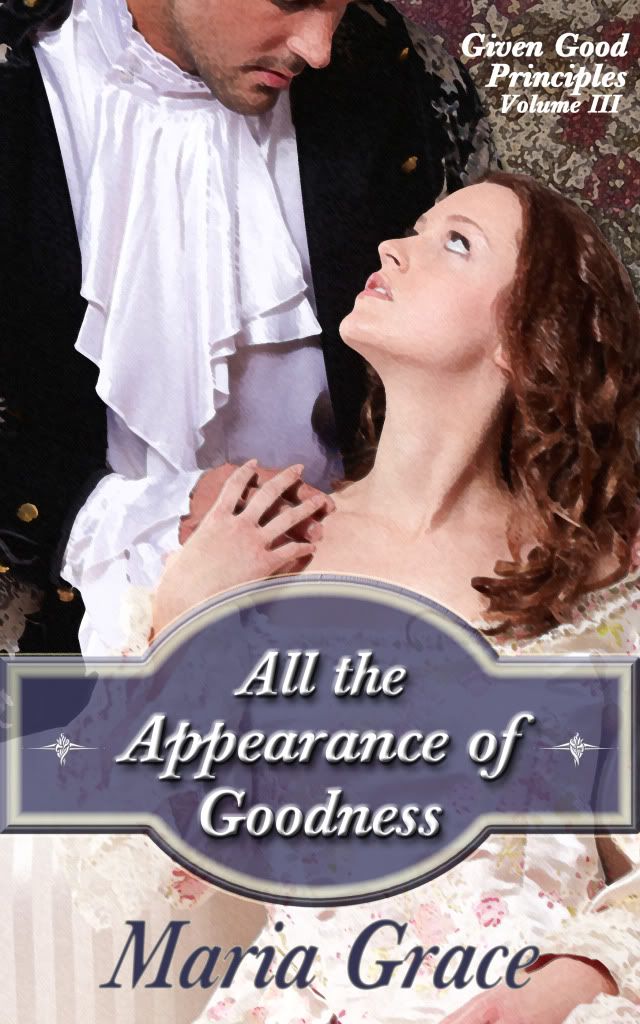 I am giving away two autographed copies of the book to those who leave comments below. (E-books for international winners.) The giveaway will end on March 31, 2013, so leave loads of comments and do not forget the Rafflecopter option for additional opportunities to win. In addition, yesterday Regina Jeffers launched her latest release, THE MYSTERIOUS DEATH OF MR. DARCY. Regina and I have decided to double your pleasure and double the fun. Those who comment below are also in the running to win a copy of Regina's book, and those who commented on her post yesterday will be eligible to win my title.
All the Appearance of Goodness is the continuation of the Given Good Principles series.
What is a young woman to do? One handsome young man has all the goodness, while the other the appearance of it.  How is she to separate the gentleman from the cad?
When Darcy joins his friend, Bingley on a trip to Meryton, the last thing on his mind is finding a wife. Meeting Elizabeth Bennet changes all that, but a rival for his affections appears from a most unlikely quarter. He must overcome his naturally reticent disposition if he is to have a chance of winning her favor.
Elizabeth's thoughts turn to love and marriage after her sister, Mary's, engagement. In a few short weeks she goes from knowing no eligible young men, to being courted by two. Both are handsome gentleman, but one conceals secrets and the other conceals his regard. Will she determine which is which before she commits to the wrong one?
Please enjoy a little excerpt to whet your appetite.
 From Chapter 9
An hour later, composed and momentarily calm, Louisa Bingley paced the length of her dressing room. By all rights, the carpet should be as threadbare as her own soul by now, but the makers had woven it of sturdier stuff that she.
Could she stand up to Caroline as Mr. Bradley suggested? The idea was fantastical, unheard of in her family, so close to fiction it tried her sensibilities. She whirled about for another trip past the dressing table.
What choice had she? Caroline had already announced her intentions to join Louisa on her wedding trip and live with her and Hurst afterwards. She loved Hurst too well to subject him to the life she and Charles endured. If she did not do something now, her marriage would be ruined before it began. Continue reading →
Published
March 18, 2013
|
By
Regina Jeffers
My newest release from Ulysses Press is available on Amazon, Barnes & Noble, and Books-a-Million, as well as eBook formats. THE MYSTERIOUS DEATH OF MR. DARCY is a cozy mystery set in Dorset, and it is a real thriller. There are witches and resurrectionists and a mass murderer, oh my!!! I hope you enjoy the excerpt below. I am giving away two autographed copies of the book to those who leave comments below. The giveaway will end on March 31, 2013, so leave loads of comments and do not forget the Rafflecopter option for additional opportunities to win. In addition, tomorrow Maria Grace will launch her latest release, ALL THE APPEARANCE OF GOODNESS. Maria and I have decided to double your pleasure and double the fun. Those who comment below are also in the running to win a copy of Maria's book, and those who comment on her post tomorrow will be eligible to win my title. 
A thrilling story of murder and betrayal filled with the scandal, wit and intrigue characteristic of Austen's classic novels
Fitzwilliam Darcy is devastated. The joy of his recent wedding has been cut short by the news of the sudden death of his father's beloved cousin, Samuel Darcy. Elizabeth and Darcy travel to Dorset, a popular Regency resort area, to pay their respects to the well-traveled and eccentric Samuel. But this is no summer holiday. Danger bubbles beneath Dorset's peaceful surface as strange and foreboding events begin to occur. Several of Samuel's ancient treasures go missing, and then his body itself disappears. As Darcy and Elizabeth investigate this mystery and unravel its tangled ties to the haunting legends of Dark Dorset, the legendary couple's love is put to the test when sinister forces strike close to home. Some secrets should remain secrets, but Darcy will do all he can to find answers—even if it means meeting his own end in the damp depths of a newly dug grave.
With malicious villains, dramatic revelations and heroic gestures, The Mysterious Death of Mr. Darcy will keep Austen fans turning the pages right up until its dramatic conclusion.
(Excerpt from Chapter 22)
Elizabeth had finally fallen asleep with her head resting on her folded arms on the small escritoire in her chambers. She had removed Samuel Darcy's journals from the hiding place among her most intimate wear to return to the coded passages. With Darcy searching for Mr. Barriton, it became more vital for her to solve the mystery of his cousin's words. Steadfastly, she had manipulated the possible dates for Perdita Sanderson's birthday, for Elizabeth was certain, after learning something of Samuel Darcy's history with the child's grandmother, it seemed only natural for Darcy's cousin to hold a perverted heightened interest in the girl named for Samuel's great love.
It had taken Elizabeth thirteen attempts before she had come across the correct combination. "14 September 1808," she had announced to the empty room. "Fitzwilliam shall will be surprised to learn Perdita Sanderson is a year older than my dear husband recalled."
Diligently, she had translated several related passages. She found with gratitude that Samuel had used the same coded pattern for the entries. In his own words, Darcy's cousin spoke of contacting a gentleman in a newly minted state in what was once known as the Northwest Territory in America. According to the late Mr. Darcy, Ohio had become a state in 1803. Surprisingly, Samuel spoke of having explored several sections of the land beyond the mountains of Virginia some fifteen years prior, and having made the acquaintance of a Giles O'Grady. The gentleman of Samuel's acquaintance had passed some ten years prior, but Samuel had maintained his correspondence with Mr. O'Grady's son, Peter.
Three years prior, the younger O'Grady had contacted Samuel Darcy with news of an invention Peter thought would awaken Samuel's scientific hunger. Samuel and the younger O'Grady had corresponded regularly, and Darcy's cousin Samuel had offered financial support for the man's efforts.
Samuel Darcy had traveled to America twice in the past eight years. The earlier of the journeys had served as a duty call on the O'Grady's, for Cousin Samuel had held a great affection for the elder. Samuel had written, "Giles O'Grady had saved my life when I foolishly stumbled into a bear trap. Giles nursed me to health over a six-weeks' period. In gratitude, I had made O'Grady a gift of a loan so Giles could purchase his homestead. A proud one, Giles refused my thanks, but I finally convinced O'Grady to accept my money. I held no doubts of Giles' success. My friend repaid me every penny." Continue reading →
Published
March 14, 2013
|
By
Sharon Lathan
Today I am subbing for Susan Adriani, who suffered a freakish accident and hurt her hand. Yikes! She will be fine, but can't type – Can you imagine?! – so I am leaping to the rescue.
Actually, as sad as I am about Susan's injury – *tear – it worked out rather nice because I can share an excerpt of the latest installment of the Darcy Saga, which will be released in less than three weeks. Cool! Indeed, the Saga originally intended to tell the "married with children" tale of Fitzwilliam and Elizabeth has ended up encompassing a whole lot of Darcys. The Passions of Dr. Darcy is the epic journey of Darcy's Uncle George, a character I created and introduced in Loving Mr. Darcy. I fell madly in love with George, as did my readers, and am very excited to reveal more of the story of this remarkable man.
A short blurb~~
George Darcy is the second son of a wealthy landowner in Georgian Era England and, at 22, is considered to be a brilliant, rising star in England's field of medicine. However, Dr. Darcy refuses the easy, comfortable pathway and enlists as a physician with the British East India Company, embarking on a personal quest where he strives to change the face of medicine while yearning to fill the void left within his soul at the death of his twin. His search for family, enduring love, and lost companionship is a quest not wholly realized until his return to England and Pemberley after thirty years of amazing adventures. It is then that a new generation of family and friends that will heal the physician, and to his greatest surprise, where the true love of his life awaits.
You can learn more about The Passions of Dr. Darcy on my website:  HERE  and it can be pre-ordered at all the usual places. Links are on my website. The official release date is April 2.
Before I get to the excerpt – Be Patient! – I also want to mention for those who live in the Southern California area, that I will be present at the big Southern CA RWA Writer's Conference this Sunday, March 17, from 1:00pm to 2:30pm at the Doubletree Hilton in Santa Ana located on 201 MacArthur Blvd. I will be signing bookmarks as well as copies of Mr. and Mrs. Fitzwilliam Darcy and Miss Darcy Falls in Love. I would love to welcome any of my readers! Plus, there will be loads and loads of terrific romance novelists with me.
For more information on this event, click this link: SoCalRWA Multi-Author Booksigning Continue reading →
Published
March 7, 2013
|
By
Regina Jeffers
The ARCs are in and in less than a week, my newest Austen-inspired cozy mystery will hit the shelves. THE MYSTERIOUS DEATH OF MR. DARCY is a thrilling story of murder and betrayal filled with the scandal, wit, and intrigue characteristic of Austen's classic novels.
Ulysses Press and I had originally thought to release a "summer read" set in one of the Regency's "seaside resorts." However, if you know nothing else about me, you should know I never go for the predictable. Instead of Brighton and Bath, I chose to set this novel in Mudeford, one of George III's favorite watering holes, but one that never achieved the popularity of the others frequented by the Royal Family. Once the place was chosen, my next task was discover other "tidbits" I could incorporate in the story line. As the manuscript was to be a Darcy and Elizabeth mystery, looking for the unusual was tantamount. Any writer of historical fiction can speak to the need to uncover accurate historical facts, a task which the Internet has made both easier, as well as more challenging. We all recognize how easily it is to manipulate a fact and see it spread across the Internet as the truth.
In the back of my books, I regularly incorporate Author Notes, which speak to the research used to create the story line. One of those Author Notes for The Mysterious Death of Mr. Darcy includes The Monoliths in Dorset.
Some 30 meters south of the River Stour in Bear Mead and two kilometers west of Wimborne in Dorset, a monolithic stone can be seen. Located at SY 986–993, the stone, of fine limestone, has a density of 2,650 kilograms per cubic meter, suggesting an approximate weight for the monolith of 1,076 kilograms. The stone is affectionately called the "Bearstone." A similar toppled monolith can be found some 600 meters to the NNE, on the other side of the River Stour in Cowgrove. Of similar quality to Bearstone, "Moonstone" is approximately 1.2 meters high x .75 meters wide x 0.2 meters wide, with a weight of 477 kilograms. Continue reading →
Published
March 5, 2013
|
By
Jane Odiwe
In this special year of the 200th anniversary of Pride and Prejudice I've been reminded of the pleasure I've had in writing two books inspired by Pride and Prejudice – Lydia Bennet's Story and Mr Darcy's Secret. Being able to extend the lives of some of my favourite characters is always such fun to do and I particularly enjoy taking on those 'difficult' ladies who make us gasp in horror or laugh out loud. One of these ladies is the formidable Lady Catherine de Bourgh. In Mr Darcy's Secret she finally appears after initially snubbing the newly-weds, but she makes a surprise visit! Elizabeth has the misfortune to literally 'run' into her on the road and now she has the job of smoothing the elder lady's ruffled feathers. I hope you enjoy what follows!
What a commotion ensued on their arrival. Elizabeth could tell that poor Mrs Reynolds, though as accommodating as ever, was quite upset that she was not prepared for Lady Catherine's arrival. Maids and servants flew about them removing luggage and bandboxes. As they entered the hall Mrs Reynolds took Elizabeth to one side. "Begging your pardon, ma'am, but I think you should know that the master has been in a bit of a lather since you left this afternoon. He's had all the footmen out looking for you on the peaks. I did tell him that you like to go off on your own sometimes, but he wouldn't listen. Don't judge him too badly if he seems a little fractious, but he's been that worried, I can't tell you."
Elizabeth fumed inwardly. She had not been gone for long. Why must she tell the entire household if she wanted to go for a walk? Mr Darcy's reaction seemed entirely ridiculous if what Mrs Reynolds said was true. Continue reading →
Published
February 26, 2013
|
By
Shannon Winslow
Whoohoo! Debut day has finally arrived!
Ever since I finished writing Return to Longbourn, I've been dying to get this story out there. The creative process isn't complete until the resulting work is shared. And the wait to share a new book can be excruciating  - like having a tantelizing secret to tell and no one to tell it to!
One reason I'm so anxious to share this book is that I want to know if it intrigues and surprises you as much as it did me when I wrote it. You see, although some authors plot their entire story in detail before actually beginning to write, I do not. I fly by the seat of my pants – dangerous at times, but also a lot of fun! This time the trip took me somewhere unexpected.
I set out to continue the Pride and Prejudice saga, following up on The Darcys of Pemberley by jumping about five years ahead in time. I wanted to finally answer the question first raised by Jane Austen herself 2oo years ago. What will happen to the the Bennet women when Mr. Bennet dies, seeing that the Longbourn estate is entailed away from the female line?
That's the basic problem posed at the outset of Pride and Prejudice, and it's only partially resolved by the end of the book. In The Darcys of Pemberley, I uncerimoniously knock off Mr. Collins (sorry, folks), but that changes nothing; the girls still cannot inherit. So when Mr. Bennet does (sadly) die, what happens to Mrs. Bennet, her two unmarried daughters, and the Longbourn estate? Continue reading →
Published
February 6, 2013
|
By
Regina Jeffers
It is official; my latest Regency romance is available on Amazon, Kindle, Nook, and Kobo. I introduced you to His: Two Regency Novellas last month with an excerpt from "His Irish Eve," which is the story of Adam Lawrence, the future Earl of Greenwall. Today's excerpt is one from "His American Heartsong," the story of Lawrence Lowery, the older brother of Sir Carter Lowery from my Realm Series. I am giving away one print copy and one eBook copy to those who leave comments below. The giveaway will end on Valentine's Day.  Enjoy the excerpt.
 * * *
The Deepest Love Is Always Unexpected
His American Heartsong
Lawrence Lowery has been the dutiful elder son his whole life, but when his father Baron Blakehell arranges a marriage with the insipid Annalee Dryburgh, Lowery must choose between his responsibility to his future estate and the one woman who makes sense in his life. By Society's standards, Arabella Tilney is completely wrong to be the future Baroness–she is an American hoyden, who demands that Lowery do the impossible: Be the man he has always dreamed of being. (A Novella from the Realm Series
His Irish Eve
When the Earl of Greenwall demands his only son, Viscount Stafford, retrieve the viscount's by-blow, everything in Adam Lawrence's life changes. Six years prior, Lawrence had released his former mistress Cathleen Donnell from his protection, only to learn in hindsight Cathleen was with child. Lawrence arrives in Cheshire to discover not only a son, but also two daughters, along with a strong-minded woman, who fascinates him from the moment of their first encounter. Aoife Kennice, the children's caregiver, is a woman impervious to Adam's usual tricks and ruses as one of England's most infamous rakes. But this overconfident lord is about to do battle: A fight Adam must win–a fight for the heart of a woman worth knowing.
Amazon http://www.amazon.com/His-Regency-Romances-Regina-Jeffers/dp/061575774X/ref=sr_1_1?ie=UTF8&qid=1359572029&sr=8-1&keywords=his%3A+two+regency+novellas
Kindle http://www.amazon.com/His-Two-Regency-Romances-ebook/dp/B00B6QTTL8/ref=sr_1_1?ie=UTF8&qid=1359402822&sr=8-1&keywords=His%3A+Two+Regency+Novellas
Nook http://www.barnesandnoble.com/w/his-regina-jeffers/1114234802?ean=2940015971132&itm=1&usri=his%3a+two+regency+novellas
Kobo http://www.kobobooks.com/ebook/His/book-_SMXzWmrU0OkNjT4HatqHg/page1.html?s=Adqex3mxTE2rVgvyNAn2hQ&r=4 Continue reading →
*Giveaways
Enter our monthly contest using the Rafflecopter form on the
Giveaway Page.
All rules and prizes are listed there! Click the image or link provided.
Purchasing
Austen Authors Amazon Marketplace
Amazon.com