So I confessed in my last post at Austen Authors that I had never seen the 1995 BBC production of Pride & Prejudice, a.k.a. the Colin Firth Pride & Prejudice. And I vowed to remedy that fact. And I have. Just this past weekend. I set aside five hours for Colin and crew, and I'm sharing my first impressions in this post. After I finished (pseudo) live-tweeting the viewing, Monica Perry (an AuAu regular) tweeted me "The 1st Firth Darcy viewing is a major milestone in a woman's life!" While I loved that sentiment, I'm not sure I'd throw it up there with all other 'major' milestones. That said, it was marvelous! If I hadn't had two boys traipsing in with regular interruptions, I could have completely lost myself in this truly magical adaptation.
Here are my tweets, from beginning to end, with a few notes thrown in for good measure:
It'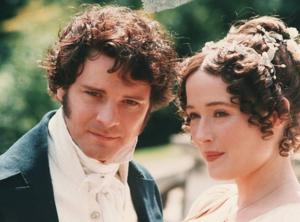 s time! It's time! My first viewing of Colin Firth as Mr. Darcy!! (I actually tried checking it out from the library, but they'd SPLIT UP VOLUMES 1 &2!! I ended up with only Volume 2 and so borrowed the set from a friend.)
So far I'm struck with how skinny and spry Mr. Bennet is! (I pictured him as a more portly fellow.)
Poor Darcy! So misunderstood…and "ill-favored" looking!! (Colin Firth was spot-on with the aloof glances and tortured-hero stares! And oh, how I felt for Lizzie when he lambasted her at the Meryton Assembly!)
I love how spunky Jennifer Ehle is!! (Skipping, running, playing with the dog, spouting off on the insufferability of certain gentlemen…)
Enter Mr. Wickham… (Oh, boy!)
Given the cut-direct by Mr. Darcy!! (So well-deserved!)
Mr. Collins is bearing up so magnificently! (I confess, in the first half, I felt a little bit sorry for Mr. Collins…)
I love the silent looks between Elizabeth and Charlotte Collins! (An entire conversation is conveyed.)
"Charlotte! How can you possibly marry him??"
"I do not mind him so much, Lizzie."
"How can you not?? He is intolerable!"
"I do believe I can tolerate him sufficiently for us to get on very well together."
"I think you're quite mad, but I will support you if I must. Just don't invite me to stay at the parsonage. I don't think I could bear to discuss the Rosings chimneys a second time."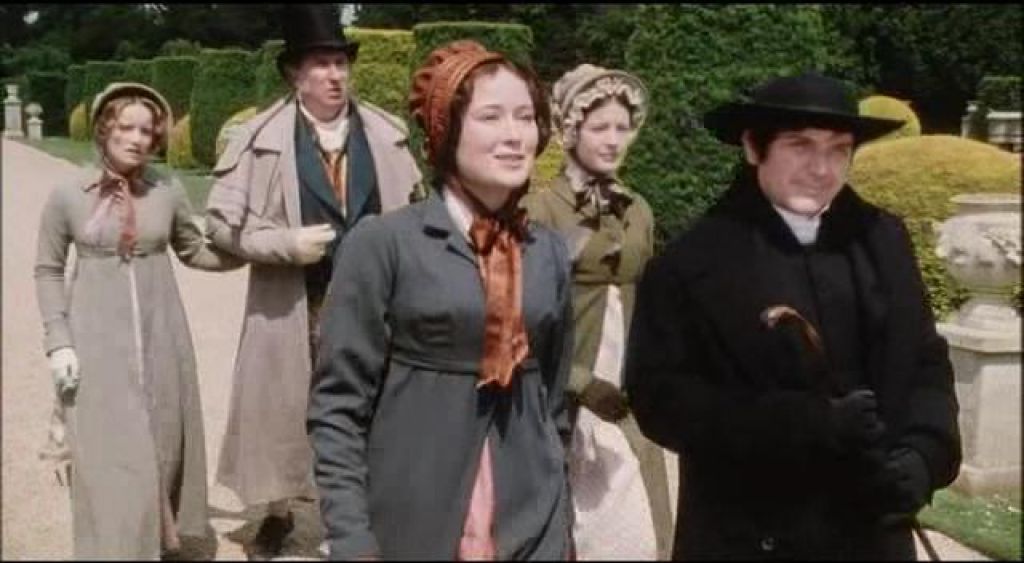 Lizzie, Darcy, can't you two see that you're in love with each other?? (forgive the borrow from Seinfeld). (Hee hee hee…couldn't reisist.)
First 2.5 hrs. down. Totally hooked! (Of course!)
Guys are all watching Thor. I am escaping to my bedroom to watch the second half of P&P!! #JaneAusten
Oh, Mr. Collins, you are deliciously intolerable! (I was almost gleeful, I was so enjoying Mr. Collins. Particularly when Lady Catherine would talk over him and he would snap his fingers to his lips, as if shocked at his gaffe at speaking when she had intended to.)
Darcy just dove into the pond!! (*Wincing*  This wasn't all I imagined it to be. I thought she'd be catching him coming out of the pond…we can agree to disagree. I confess, I enjoyed the Darcy-in-the-bath scene even bette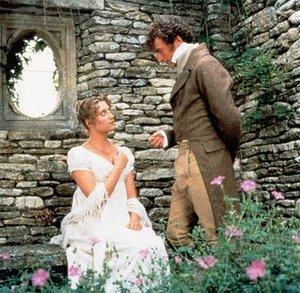 r.)
Wickham, you smarmy clod! (To quote Elizabeth: "Insufferable man!")
Mrs. Bennet, you are an insufferable shrew!! And I cannot abide you! (The whole bit about the wedding clothes after the Lydia/Wickham tragedy was simply too much to bear!  And I had the word 'insufferable' on the tip of my tongue!)
Double wedding!! (So sweet.)
The End… Bravo! Bravo! I loved it! Now I know what you all have been talking about!! (All felt right with the world when the movie ended.)
Lesson of the Day: the Colin Firth version of P&P really brings people together! I've only had so much interaction on my book launch day! (True!)
Honestly, the casting in this version was near perfection. I LOVED Jennifer Ehle's liveliness and genuineness. And Colin Firth was the PERFECT misunderstood Darcy. And then there was sweet, noble Jane; stalwart Charlotte Lucas; obsequious–and yet still somewhat loveable–Mr. Collins; shrewish Mrs. Bennet, tolerant Mr. Bennet, the truly likeable Mr. Bingley, and the ugly stepsisters: Caroline Bingley and Mrs. Hurst. Seriously, the last two reminded me of the Cinderella pair–the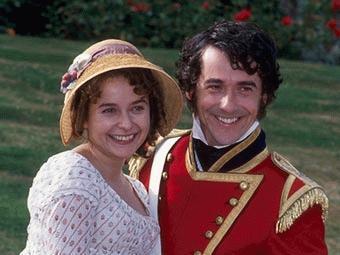 ir heights and coloring so different, it was difficult to believe them sisters.
I so enjoyed seeing the entire story brought to life in a five hour version (instead of a two-hour plus movie version)–lots of the little vignettes that must otherwise be left out made the story all the more genuine. And the countryside–how beautiful! Even Elizabeth's solitary walks added so much!
And the tortured scenes between Lizzie and Darcy.  My, oh, my!  I was hanging on every word!  I felt that Darcy was behaving insufferably, but I also felt for him.  Men!
Ahh, so much to love. When I posted to Austen Authors on Facebook that I'd be watching this version for the first time, Sandy Cook commented: "Le sigh." Then Jami Wiederholt commented: "Le sigh indeed." I will third that sigh!
When do I get my club membership card??
So tell me, what is your favorite part of the Colin Firth adaptation? Is it Mr. Firth himself? Do tell.
P.S.  I'm doing the Cover Reveal for my Jan 2013 Austen-inspired novel on my blog with a Galley Giveaway!  Swing by and let me know what you think!
Alyssa Goodnight
Alyssa Goodnight currently lives between Houston and Galveston with her husband, two sons, and their adventure dogs, Indiana Jones and Short Round. She does her writing with an ice-cold can of Dr Pepper and her reading with cake whenever possible (now gluten-free!) Her writing has been described as clever, quirky, captivating and delightful. She is the author of Austentatious, Austensibly Ordinary, and Unladylike Pursuits.