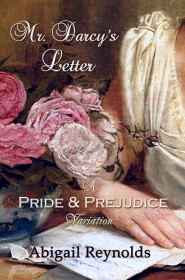 Today I'm celebrating Jane Austen's birthday in a big way.  It's the launch of my latest Austen-inspired novel, Mr. Darcy's Letter, the latest of my variations on Pride & Prejudice.  The twist in this variation takes place when Mr. Darcy tries to give Elizabeth Bennet his letter of explanation after she refuses his disastrous proposal.  In Pride & Prejudice, she takes the letter and it sets the direction of the remainder of the book, but according to the etiquette of the time, if anyone ever discovered that she had received a letter from a single gentleman, she could be ruined… or forced to marry the man she detests.  But what if she had followed the rules and refused to take it?  In this all-new Pride & Prejudice variation, Elizabeth takes the safe course and refuses to read Mr. Darcy's letter. Returning home unaware of Wickham's true nature, Elizabeth confesses everything to him, putting both Mr. Darcy and herself in grave danger from Wickham's schemes.
I'm also celebrating with lots of giveaways for my readers.  Want to read Mr. Darcy's Letter?  I'll be giving away a signed copy to a randomly selected reader who comments on this post.  I'm also celebrating on my Pemberley Variations blog where I'm giving away a copy of my October release, Mr. Darcy's Undoing, as part of the Jane Austen Birthday Soiree.  Don't feel like taking a chance?  As a special birthday treat for all readers, I'm also going to post my short story "Intermezzo" here on Austen Authors.  It's a personal favorite of mine, and I hope you enjoy reading it as much as I enjoyed writing it.
But none of that is the big news in my life.  As if releasing a new novel isn't enough and taking part in a giant birthday party for Jane Austen isn't enough, today is the first day of my new life is a full-time writer.  I've spent many years practicing medicine and writing novels on the side, and I've decided it's time to let my creative side take the lead.  It's both exciting and nerve-wracking, but I'm looking forward to finally having the time to put all the ideas filling my head on paper.  Here's some of the already half-written books that you'll be seeing in the future:
The Interrupted Proposal: An all new Pemberley Variation set during some extreme weather in Kent
Uncharted Waters: The long-awaited third book in my Woods Hole series of contemporary novels set on Cape Cod, this book will tell the story of Ryan Boulton, the younger brother of Cassie Boulton from The Man Who Loved Pride & Prejudice and Morning Light.
Castles in the Sand: Book 4 in the Woods Hole series, but I'm not giving away who it involves yet!
So stick around – there's plenty more to come!  Meantime, please leave a comment before December 23 for your chance to win a copy of Mr. Darcy's Letter, and then go on to the next post to enjoy "Intermezzo!"